Life

Insecta

Lepidoptera

Ditrysia

Papilionoidea

Pieridae
Subtribe Appiadina
Appiadina (Pierini) ; Yata, Chainey & Vane-Wright, 2010, Syst. Ent. 35 : 764
---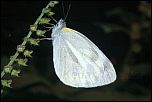 600x400 (~47Kb) underside India: Subansiri, 2.11.2005, Photo © Kedar Tokekar
The exact identification of this species is still unknown, but tentatively assumed to belong into this group.
---
19.7.2014 (866)
References:
[BAMONA] Opler, Pavulaan, Stanford & Pogue
Butterflies and Moths of North America; Mountain Prairie Information Node
[Kedar Tokekar]
India
[NACL] Hodges, 1983
Check List of the Lepidoptera of America North of Mexico
[NL4A] Gerardo Lamas, 2004
Atlas of Neotropical Lepidoptera; Checklist: Part 4A; Hesperioidea - Papilionoidea
---
Some related literature:
Yata, Chainey & Vane-Wright, 2010
The Golden and Mariana albatrosses, new species of pierid butterflies, with a review of subgenus Appias (Catophaga) (Lepidoptera) Syst. Ent. 35 : 764-800
---
If you have corrections, comments or information to add into these pages, just send mail to Markku Savela
Keep in mind that the taxonomic information is copied from various sources, and may include many inaccuracies. Expert help is welcome.