Life

Plants

Magnoliophyta

Magnoliophytina

Magnoliopsida

Ericaceae
Ledum L.
Foodplants for Celastrina ladon, Plebejus cleobis tancrei
---
---

Ledum palustre
L.
Suopursu
Labrador Tea
Getporst
Skvattram
Rhododendron tomentosum Harmaja
Ledum palustre, Bilder ur Nordens Flora (in Swedish) [RUNEBERG]

Ledum palustre ; [RK, 209]
Leudm palustre ; [SK, 448]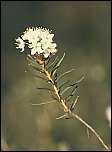 600x818 (~49Kb) FINLAND: Kl: Uukuniemi, 685:65, 20.6.1997, Photo © Markku Savela
Foodplant for Acleris maccana, Aethalura punctulata, Alcis repandatus, Angerona prunaria, Arichanna melanaria, Chlorissa (geometra) viridata, Clossiana euphrosyne, Coenophila subrosea, Coleophora ledi, Dysstroma infuscata, Ematurga atomaria, Entephria caesiata, Eupithecia gelidata, Lasiocampa quercus, Lithomoia solidaginis, Lithophane lamda, Lycia zonaria, Neofaculta infernella, Odontopera bidentata, Phalacropterix graslinella, Selenia dentaria, Speranza brunneata, Sterrhopterix standfussi, Stigmella lediella, Syngrapha microgamma, Teleiodes epomidella
Ledum palustre f. dilatata ; [SK, 448]
Ledum palustre var. dilatum ; [GMBOT, 631]
---
---
26.9.2000 (3)
References:

A Synonymized Checklist of the Vascular Flora of the United States, Puerto Rico, and the Virgin Islands; A data base interface; BONAP U.S. Checklist - 1998; Provided by TAMU-BWG; Texas A & M Bioinformatics Working Group; Based on; Biota of North America Program
Robinson, Benjamin, Fernald, Lyndon, 1908; Gray's New Manual of Botany (7th edition); A Handbook of the Flowering Plants and Ferns of the Central and Northeastern United States and adjacent Canada; American Book Company
Wielgorskaya, 1995; Dictionary of generic names of seed plants
Hämet-Ahti, L., Suominen, J., Ulvinen, T. & Uotila, P. (eds), 1998; Retkeilykasvio (Field Flora of Finland); Ed. 4. 656 pp.; Finnish Museum of Natural History, Botanical Museum. Helsinki
Project Runeberg: Nordic literature online; Project Runeberg; Bilder ur Nordens Fauna (Carl Axel Magnus Lindman)
Mela & Cajander, 1906; Suomen Kasvio; Viides painos
---
If you have corrections, comments or information to add into these pages, just send mail to Markku Savela
Keep in mind that the taxonomic information is copied from various sources, and may include many inaccuracies. Expert help is welcome.