---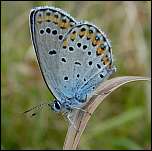 504x502 (~51Kb) Vienna, Austria, 20 July 2000, Photo © Erich Mangl
argus? argyrognomon?
The exact identification of this species is still unknown, but tentatively assumed to belong into this group.
The ardis species-group
group Ardis (Plebejus); [NEN40], 14
The argus species-group
group Argus (Plebejus); [NEN40], 14
---
Unknown or unplaced taxa



---
13.5.2020 (55)
References:
[BAMONA] Opler, Pavulaan, Stanford & Pogue
Butterflies and Moths of North America; Mountain Prairie Information Node
[BARU] Korshunov & Gorbunov
Butterflies of the Asian part of Russia; English translation by Oleg Kosterin; [Dnevnye babochki aziatskoi chasti Rossii. Spravochnik]
[BHL] The
Biodiversity Heritage Library; and on; Internet Archive; Note: The linking to the content of Internet Archive is somewhat delicate -- notify me when links break!
[BOA] Interactive Listing of American Butterflies
Listado Interactivo de la Mariposas Americanas; Butterflies of America
[BnF]
Gallica / Bibliothèque nationale de France; Annales de la Société entomologique de France; Bulletin de la Sociéte entomologique de France
[CiNii]
http://ci.nii.ac.jp/
[D. Smirnov]
Russia, Moscow; e-mail: D. Smirnov
[ESP] Heppner, 1981
The dates of E. J. C. Esper's Die Schmetterlinge in Abblidungen... 1776-[1830]; Archives of Natural History (1981) 10 (2): 251-254
[EVERSMANNIA]
Eversmannia contents
[Erich Mangl]
http://www.mangl.at
[FE] Fauna Europaea
Fauna Europaea
[HBN] Francis Hemming, 1937
HÜBNER, A bibliographical and systematic account of the entomological works of Jacob Hübner and of the supplements thereto by Carl Geyer, Gottfried Franz von Frölich and Gottlieb August Wilhelm Herrich-Schäffer, Vol 1 & 2
[Harri Arkkio]
Finland; For the time being these pictures are only for this site. Other usage not allowed.
[Heiner Ziegler]
Switzerland / Schweiz; www.pieris.ch
[JLS]
Journal of the Lepidopterists' Society; the original J. Lep. Soc. articles
[Kimmo Silvonen] Espoo, Finland
Kimmo's Lep Site
[LAMAS-2005] Gerardo Lamas
Entomofauna 26 (6): 57-100; A Bibliography of the Zoological Publications of Hans Fruhstorfer (1886* - 1922+)
[MBE] Moths and Butteflies of Europe
Paolo Mazzei, Diego Reggianti and Ilaria Pimpinelli; http://www.leps.it/
[Mario Maier]
Europäische Schmetterlinge; e-mail: Mario Maier
[NHM] Natural History Museum
The Global Lepidoptera Names Index; Butterflies and Moths of the World; Generic Names and their Type-species
[NHMUS]
Annales historico-naturales Musei nationalis hungarici; Folia entomologica hungarica; Acta Zoologica Academiae Scientiarum Hungaricae
[Norbert Kondla]
Canada, BC; e-mail: Norbert Kondla
[Oleg Kosterin] Institue of Cytology & Genetics
Siberian Division of Russian Academy of Sciences; Novosibirsk; e-mail: Oleg Kosterin; http://pisum.bionet.nsc.ru/kosterin/
[Opler] Opler & Warren, 2003
Butterflies of North America. 2. Scientific Names List for Butterfly Species of North America, north of Mexico.
[PERSEE]
Annales de la Société linnéenne de Lyon; Bulletin mensuel de la Société linnéenne de Lyon; Publications de la Société Linnéenne de Lyon; Bulletin de la Société entomologique de France
[Pertti Pakkanen]
e-mail: Pertti Pakkanen; Butterfly and moth observations from Finland
[SEG]
Schweizerische Entomologische Gesellschaft; Mitteilungen der Schweizerischen Entomologischen Gesellschaft; = Bulletin de la Société Entomologique Suisse = Journal of the Swiss Entomological Society
[SHILAP]
SHILAP Revista de Lepidoptorología; Acta Zoológica Mexicana (nueva serie); Anales del Instituto de Biología. Serie Zoología; Folia Entomológica Mexicana; Revista de la Sociedad Entomológica Argentina; Revista Peruana de Biología
[SVF]
Svenska fjärilar; Naturhistoriska riksmuseet; (Sweden)
[SZMN] Lepidoptera
Siberian Zoological Museum
[Simon Coombes]
1 Park Street, Plymouth, PL3 4BL, UK; 01752 607854; e-mail: Simon Coombes; http://www.butterfly-guide.co.uk
[ZOBODAT] Oberösterreichische Landesmuseum
OÖ. Landesmuseum; ZOBODAT - Literatur
[maps]
Warning! The maps are automatically generated from the textual information, and the process does not always produce acceptable result; See about maps for more info.
[²] This may require parentheses or not. I don't have the necessary information for this taxon.

---
---
If you have corrections, comments or information to add into these pages, just send mail to Markku Savela
Keep in mind that the taxonomic information is copied from various sources, and may include many inaccuracies. Expert help is welcome.