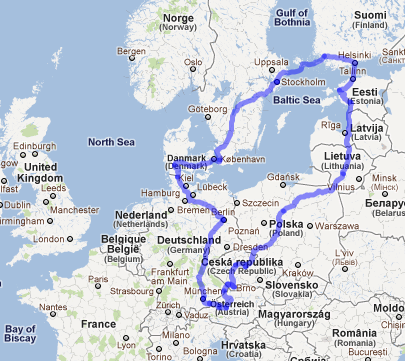 These pictures are from my 2011 round trip in Central-Eastern Europe, through Baltic, Poland, and Czech to Austria, and back through Germany, Denmark and Sweden.
This time I used only my new Canon G12, which is much easier to carry around than my Canon 40D + 5 lenses + video camera, some 5 kg in weight. While the G12 is just OK for taking basic travel pics, it is somehow much more difficult to take any visually spectacular pictures with it. Weather has a great influence of course and most of the time the weather was rather dull.
Unfortunately, the stupid tracker application I used kept only the last 20 or so tracks, so I lost all the location information for the first ten days. Many of the pictures in Austria contain the geographical location information and have a link to Google Maps, but I didn't have tracking on all the time. For some pictures I have set the location manually. I really need a good 24/7 tracker device.
Note the new keyboard support in the image view: arrow left and right navigate the to previous and next picture (when possible), and arrow up to the index.
Baltic and Poland

Leaving


August 5th

Estonia


August 6-7th

Latvia


August 7th

Kaunas, Lithuenia


August 7th

Poland


August 8th to 9th

Torun, Poland


August 8th

The route went through Estonia, Latvia, and Lithuenia, through the Via Baltica (E67) road. After arriving at Poland, I turned from the E67 to Torun, the birth place of Nikolai Copernicus.

Czech

Kutna Hora


August 9th

Praha


August 10th

Cesky Krumlov


August 11th

Sumava National Park


August 12th

The last time I went quickly through Czech in just a few hours, not even stepping out of the car. This time, I spent more time there. Accomodation and food were really cheap which makes this a great destination.

Hallstatt and Dachstein Area in Austrian Salzkammergut

Hallstatt


August 13th to 21st

Predigstuhl


August 14th

Toplitszee


August 15th

Krippenstein


August 16th

Dachstein Highlands


August 16-17th

Taubenkogel


August 17th

Bad Goisern and Gosau


August 18th

Sarstein


August 20th

The main objective of the trip, Hallstatt and the surrounding area.

Coming Back

Germany


August 21st

Sweden


August 25th

Came back driving quite fast through Germany, Denmark, and Sweden. I didn't stop much and took pictures even less.
Notes
The pictures presented here have been reduced to size 1152x768. Original pictures taken with Canon G12 have 10Mpix resolution and are only available by request.

© Copyright 2011 Marko Grönroos.
Copying the pictures for any use without permission is strictly prohibited. Only personal viewing with a web browser is allowed. For permission to use the pictures for any other purpose, contact the author.