Life

Insecta

Lepidoptera

Ditrysia

Papilionoidea

Nymphalidae

Nymphalinae
Kallimoides Shir˘zu & Nakanishi, 1984

Kallimoides Shir˘zu & Nakanishi, 1984; Ty˘ to Ga 34 (3) : 107, TS: Kallima rumia Doubleday
Kallimoides, NSG Voucher Specimen [Wahlberg]
Kallimoides ([ins.cedis]) ; [Wahlberg]; [AfrL]

---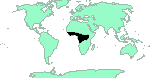 -. See [About maps]
African Leaf
Kallima rumia Westwood, 1850
Kallima rumia amiru Suffert, 1904; Dt. Ent. Z. Iris 17 (1) : 111
Kallimoides rumia, NSG Voucher Specimen [Wahlberg]

Kallima rumia ; [EBW]; [BOW: pl. 104, f. 10, 14]
Kallimoides rumia ; Shir˘zu & Nakanishi, 1984, Ty˘ to Ga 34 (3) : 107; [AfrL]
Sierra Leone - Nigeria
Kallima rumia rumia
Kallima rumia rumia ; [BAFR, 213]
Kallimoides rumia rumia ; [AfrL]
Cameroun - Uganda (Bwamba)
?Kallima rumia kassaiensis ; [BAFR, 213]
Uganda, NW.Tanzania?, Burundi?, Rwanda?
Kallima rumia rattrayi ; [BAFR, 213]
Kallimoides rumia rattrayi ; [AfrL]
Kallimoides rumia jadyae ; [AfrL]
---
18.11.2012 (1)
References:

Warning! The maps are automatically generated from the textual information, and the process does not always produce acceptable result; See about maps for more info.
Mark C. Williams; Checklist of Afrotropical Papilionoidea and Hesperoidea; Compiled by Mark C. Williams, 7th ed. (2008) (April 2007); Afrototropical Butterflies; e-mail: Mark C. Williams
D'Abrera, 1980; Butterflies of the Afrotropical Region
Lewis, 1974; Butterflies of the World; ISBN 0 245 52097 X
Smart, Paul, 1976; The Illustrated Encyclopedia of the Butterfly World; ISBN 0 600 31381 6
Niklas Wahlberg; The NSG's voucher specimen database; Nymphalidae Systematics Group
This may require parentheses or not. I don't have the necessary information for this taxon.
---
Some related literature:

Shir˘zu & Nakanishi, 1984

A revision of the genus Kallima Doubleday (Lepidoptera; Nymphalidae) Ty˘ to Ga 34 (3) : 97-110

Suffert, 1904

Neue Nymphaliden aus Africa Dt. Ent. Z. Iris 17 (1) : 108-123
---
If you have corrections, comments or information to add into these pages, just send mail to Markku Savela
Keep in mind that the taxonomic information is copied from various sources, and may include many inaccuracies. Expert help is welcome.