Life

Insecta

Lepidoptera

Ditrysia

Papilionoidea

Nymphalidae

Charaxinae
Euxanthe Hübner, [1819]

Euxanthe Hübner, [1819]; Verz. bek. Schmett. (3): 39, TS: Papilio eurinome Cramer
Godartia Lucas, 1843; Ann. Soc. ent. Fr. 11 (4) : 297, TS: Godartia madagascariensis Godart
Anthora Doubleday, 1844; List. lepid. Ins. Brit. Mus. 1 : 99, TS: Papilio eurinome Cramer
Hypomelaena Aurivillius, 1898; K. svenska VetenskAkad. Handl. 31 (5) : 222, TS: Godartia trajanus Ward
Euxanthe, NSG Voucher Specimen [Wahlberg]
Euxanthe (Euxanthini) ; [Wahlberg]; [AfrL]

---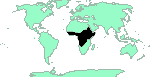 -. See [About maps]
Papilio eurinome Cramer, [1775]; Uitl. Kapellen 1 (1-7): 109, pl. 70, f. A
Euxanthe eurinome, NSG Voucher Specimen [Wahlberg]

Euxanthe eurinome ; [BOW: pl. 103, f. 6]; [EBW]
Euxanthe (Euxanthe) eurinome ; [AfrL]
Larva on Blighia, Deinbollia, Phialodiscus [BK]
Sierra Leone - Nigeria, Fernando Póo, Cameroun
Exuanthe eurinome eurinome
Exuanthe eurinome eurinome ; [BAFR, 405]
Euxanthe (Euxanthe) eurinome eurinome ; [AfrL]
Angola, E.Zaire, C.A.R., Uganda
Godartia ansellica Butler, 1870; in Dunning, Trans. ent. Soc. Lond. 1870 (4) : 525
Euxanthe eurinome ansellica ; [BAFR, 405 (text)]; [BK, 303 (note)]
Euxanthe (Euxanthe) eurinome ansellica ; [AfrL]
Gabon
Euxanthe eurinome celadon ; [BAFR, 405 (text)]
Euxanthe (Euxanthe) eurinome celadon ; [AfrL]
Ethiopia
Euxanthe eurinome birbirica ; [BAFR, 405 (text)]; [BK, 303 (note)]
Euxanthe (Euxanthe) eurinome birbirica ; [AfrL]
W.Kenya, N.Uganda
Western Forest Queen
?Euxanthe eurinome elgonae ; [BAFR, 405 (text)]
Euxanthe eurinome elgonae ; [BK, 303, pl. 40]
---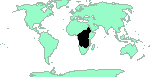 -. See [About maps]
Crossley's Forest Queen
Godartia crossleyi Ward, 1871; Ent. mon. Mag. 8 : 36, TL: Cameroons
Euxanthe crossleyi intermedia Joicey & Talbot, 1921; Bull. Hill Mus. 1 (1) : 75, pl. 13, f. 36-37, TL: Ituri Forest
Euxanthe crossleyi, NSG Voucher Specimen [Wahlberg]

Euxanthe (Euxanthe) crossleyi ; [AfrL]
Larva on Blighia, Deinbollia, Phialodiscus [BK]
Cameroun, Gabon, Congo Republic, C.A.R., W.Zaire, NW.Zambia
Euxanthe crossleyi crossleyi ; [BAFR, 405 (text)]
Euxanthe (Euxanthe) crossleyi crossleyi ; [AfrL]
E.Zaire, Uganda
Euxanthe crossleyi magnifica ; [BAFR, 405]
Euxanthe (Euxanthe) crossleyi magnifica ; [AfrL]
S.Zaire (Shaba)
Euxanthe crossleyi claudiae ; [BAFR, 405 (text)]
Euxanthe (Euxanthe) crossleyi claudiae ; [AfrL]
Euxanthis crossleyi ansorgei ; [BK, 304, pl. 40]
Euxanthe (Euxanthe) crossleyi ansorgei ; [AfrL]
---
Natal, E.Africa. See [About maps]
Forest Queen
Godartia wakefieldi Ward, 1873; Ent. mon. Mag. 10 : 152, TL: E.Africa
Euxanthe wakefieldi, NSG Voucher Specimen [Wahlberg]

Euxanthe wakefieldi ; Grose-Smith & Kirby, 1890, Rhop. Exot. [2] 1: (Euxanthe) 1, pl. 1, f. 1; [BOW: pl. 103, f. 5]; [EBW]; [BAFR, 405]; [BK, 304, pl. 40]
Euxanthe (Euxanthe) wakefieldi ; [AfrL]
Larva on Deinbollia oblongifolia [PBSA], Sapindus, Deinbollia, Blighia, Phialodiscus [BK]
---
Madagascar. See [About maps]
Godartia madagascariensis Lucas, 1843; Ann. Soc. ent. Fr. 11 (4) : 299, pl. 12, Sect. 2, f. 1-3, TL: Madagascar
Euxanthe madagascariensis, NSG Voucher Specimen [Wahlberg]

Euxanthe madagascariensis ; [EBW]; [BAFR, 406]; [MadL]
Euxanthe (Euxanthe) madagascariensis ; [AfrL]
Subgenus Hypomelaena Aurivillius, 1898
Hypomelaena Aurivillius, 1898; K. svenska VetenskAkad. Handl. 31 (5) : 222, TS: Godartia trajanus Ward
---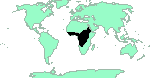 -. See [About maps]
Godartia trajanus Ward, 1871; Ent. mon. Mag. 8 : 36, TL: Cameroons
Euxanthe trajanus, NSG Voucher Specimen [Wahlberg]

Euxanthe trajanus ; [BOW: pl. 103, f. 7]; [EBW]
Euxanthe (Hypomelaena) trajanus ; [AfrL]
Cameroun, C.A.R, N.Zaire
Euxanthe trajanus trajanus ; [BAFR, 406 (text)]
Euxanthe (Hypomelaena) trajanus trajanus ; [AfrL]
Uganda
Euxanthe trajanus vansomereni ; [BAFR, 406]
Euxanthe (Hypomelaena) trajanus vansomereni ; [AfrL]
Gabon, Congo Republic
?Euxanthe trajanus gabonicus ; [BAFR, 406 (text)]
S.Zaire
Euxanthe trajanus antonius ; [BAFR, 406 (text)]
Euxanthe (Hypomelaena) trajanus antonius ; [AfrL]
S.Nigeria
?Euxanthe trajanus nigeriae ; [BAFR, 406 (text)]
---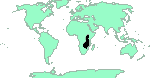 -. See [About maps]
Euxanthe tiberius Grose-Smith, 1889; Ann. Mag. nat. Hist. (6) 3 (14) : 129, TL: Mombasa
Euxanthe tiberius, NSG Voucher Specimen [Wahlberg]

Euxanthe tiberius ; Grose-Smith & Kirby, 1890, Rhop. Exot. [2] 1: (Euxanthe) 2, pl. 1, f. 2-4; [BOW: pl. 103, f. 7 (text only)]; [EBW]; [BK, 304, pl. 40]
Euxanthe (Hypomelaena) tiberius ; [AfrL]
Larva on Deinbollia, Phialodiscus [BK]
E.Kenya (Shimba Hills), coatal forest (E.Tanzania), Usambara Mts.
Euxanthe tiberius tiberius ; [BAFR, 406]; [BK, 304 (note)]
Euxanthe (Hypomelaena) tiberius tiberius ; [AfrL]
Mt. Kenya, Meru National Park
Euxanthe tiberius meruensis ; [BAFR, 406 (text)]; [BK, 304 (note)]
Euxanthe (Hypomelaena) tiberius meruensis ; [AfrL]
---
30.4.2013 (6)
References:

Warning! The maps are automatically generated from the textual information, and the process does not always produce acceptable result; See about maps for more info.
Mark C. Williams; Checklist of Afrotropical Papilionoidea and Hesperoidea; Compiled by Mark C. Williams, 7th ed. (2008) (April 2007); Afrototropical Butterflies; e-mail: Mark C. Williams
D'Abrera, 1980; Butterflies of the Afrotropical Region
Larsen, 1996; The Butterflies of Kenya and their natural history
Lewis, 1974; Butterflies of the World; ISBN 0 245 52097 X
Smart, Paul, 1976; The Illustrated Encyclopedia of the Butterfly World; ISBN 0 600 31381 6
Francis Hemming, 1937; HÜBNER, A bibliographical and systematic account of the entomological works of Jacob Hübner and of the supplements thereto by Carl Geyer, Gottfried Franz von Frölich and Gottlieb August Wilhelm Herrich-Schäffer, Vol 1 & 2
Lees, D.C., Kremen, C. and Raharitsimba, H. 2003; in S.M. Goodman & J. P. Benstead (eds.), The Natural History of Madagascar; Classification, Diversity and Endemism of the Butterflies (Papilionoidea and Hesperioidea): A Revised Species Checklist: : pp. 762-793; University of Chicago Press. 1709 pp.
Dickson, C.G.C (ed.), Kroon, D.M.; Pennington's Butterflies of Southern Africa; AD. DONKER 1978
Niklas Wahlberg; The NSG's voucher specimen database; Nymphalidae Systematics Group
This may require parentheses or not. I don't have the necessary information for this taxon.
---
Some related literature:

Aurivillius, 1898

Cramer, [1775]

Doubleday, 1844

Butler in Dunning, 1870

Grose-Smith, 1889

Grose-Smith & Kirby, 1890

Hübner, [1819]

Joicey & Talbot, 1921

Lucas, 1843

Ward, 1871

Ward, 1873
---
If you have corrections, comments or information to add into these pages, just send mail to Markku Savela
Keep in mind that the taxonomic information is copied from various sources, and may include many inaccuracies. Expert help is welcome.