Plebejus Kluk, 1780
Plebejus Kluk, 1780 Hist. nat. pocz. gospod. 4: 89, TS: Papilio argus Linnaeus
Plebeius Kirby, 1871 Syn. Cat. diurn. Lep. : 653, TS: Papilio argus Linnaeus
Rusticus Hübner, [1806] Tentamen determinationis digestionis ...: [1] (suppr. ICZN Op. 278), TS: Papilio argus Linnaeus
Lycaeides Hübner, [1819] Verz. bek. Schmett. (5): 69, TS: Papilio argyrognomon Bergstrasser
Lycoena Nicholl, 1901
Plebulina Nabokov, 1945 Psyche 51 (3/4): 104, TS: Lycaena emigdionis Grinnel
Alpherakya Zhdanko
Plebejides Sauter, 1968
Maurus Bálint, 1991
---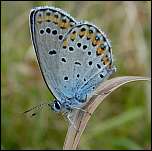 504x502 (~51Kb) Vienna, Austria, 20 July 2000, Photo © Erich Mangl
argus? argyrognomon?
The exact identification of this species is still unknown, but tentatively assumed to belong into this group.
The lucifera species-group
The eurypilus species-group
---
Unknown or unplaced taxa



---
12.5.2016 (61)
References:
[AfrL] Mark C. Williams
Checklist of Afrotropical Papilionoidea and Hesperoidea; Compiled by Mark C. Williams, 7th ed. (2008) (April 2007); Afrototropical Butterflies; e-mail: Mark C. Williams
[BAMONA] Opler, Pavulaan, Stanford & Pogue
Butterflies and Moths of North America; Mountain Prairie Information Node
[BARU] Korshunov & Gorbunov
Butterflies of the Asian part of Russia; English translation by Oleg Kosterin; [Dnevnye babochki aziatskoi chasti Rossii. Spravochnik]
[BHL] The
Biodiversity Heritage Library; and on; Internet Archive; Note: The linking to the content of Internet Archive is somewhat delicate -- notify me when links break!
[BHR] D'Abrera
Butterflies of the Holarctic Region, Part I-III
[BMAT] Tennent, 1996
The butterflies of Morocco, Algeria and Tunisia; ISBN 0 906802 05 9
[BOA] Interactive Listing of American Butterflies
Listado Interactivo de la Mariposas Americanas; Butterflies of America
[BOC] Robert Michael Pyle, 2002
The Butterflies of Cascadia
[BOW] Lewis, 1974
Butterflies of the World; ISBN 0 245 52097 X
[BRU2] Tuzov (ed.), Bogdanov, Churkin, Devyatkin, Dantchenko, Murzin, Samodurov, Zhdanko, 2000
Guide to the Butterflies of Russia and adjacent territories; Libytheidae, Danaidae, Nymphalidae, Riodinidae, Lycaenidae; Volume 2
[BnF]
Gallica / Bibliothčque nationale de France; Annales de la Société entomologique de France; Bulletin de la Sociéte entomologique de France
[CiNii]
http://ci.nii.ac.jp/
[D. Smirnov]
Russia, Moscow; e-mail: D. Smirnov
[EBW] Smart, Paul, 1976
The Illustrated Encyclopedia of the Butterfly World; ISBN 0 600 31381 6
[ESP] Heppner, 1981
The dates of E. J. C. Esper's Die Schmetterlinge in Abblidungen... 1776-[1830]; Archives of Natural History (1981) 10 (2): 251-254
[Erich Mangl]
http://www.mangl.at
[H&R] Higgins, L.G, Riley, N.D, 1970
A Field Guide to the Butterflies of Britain and Europe
[HBN] Francis Hemming, 1937
HÜBNER, A bibliographical and systematic account of the entomological works of Jacob Hübner and of the supplements thereto by Carl Geyer, Gottfried Franz von Frölich and Gottlieb August Wilhelm Herrich-Schäffer, Vol 1 & 2
[Harri Arkkio]
Finland; For the time being these pictures are only for this site. Other usage not allowed.
[Heiner Ziegler]
Switzerland / Schweiz; www.pieris.ch
[JLS]
Journal of the Lepidopterists' Society; the original J. Lep. Soc. articles
[Jean Delacre]
http://homepage.mac.com/jdelacre
[Kimmo Silvonen] Espoo, Finland
Kimmo's Lep Site
[LAMAS-2005] Gerardo Lamas
Entomofauna 26 (6): 57-100; A Bibliography of the Zoological Publications of Hans Fruhstorfer (1886* - 1922+)
[MBE] Moths and Butteflies of Europe
Paolo Mazzei, Diego Reggianti and Ilaria Pimpinelli; http://www.leps.it/
[MRS] Chou Io (Ed.)
Monographia Rhopalocerum Sinensium, 1-2
[Mario Maier]
Europäische Schmetterlinge; e-mail: Mario Maier
[Michel Tarrier]
Michel R. Tarrier; Malaga, Spain; http://www.tarrier.org
[NAB] Pyle, 1981
Field Guide to North American Butterflies, National Audubon Society; ISBN 0-394-51914-0
[NACL] Hodges, 1983
Check List of the Lepidoptera of America North of Mexico
[NEN40] Zsolt Bálint & Kurt Johnson, 1997
Neue Entomologische Nachrichten 40; Reformation of the Polyommatus Section with a Taxonomic and Biogeographic Overview (Lepidoptera, Lycaenidae, Polyommatini); ISSN 0722-3773; e-mail: Kurt Johnson; and his web site; http://www.edutrek.net/
[NEN46] Zsolt Bálint, 1999
Neue Entomologische Nachrichten 46; Annotated list of type specimens of Polyommatus sensu Eliot of the Natural History Museum, London
[NHM] Natural History Museum
The Global Lepidoptera Names Index; Butterflies and Moths of the World; Generic Names and their Type-species
[NL4A] Gerardo Lamas, 2004
Atlas of Neotropical Lepidoptera; Checklist: Part 4A; Hesperioidea - Papilionoidea
[Norbert Kondla]
Canada, BC; e-mail: Norbert Kondla
[Oleg Kosterin] Institue of Cytology & Genetics
Siberian Division of Russian Academy of Sciences; Novosibirsk; e-mail: Oleg Kosterin; http://pisum.bionet.nsc.ru/kosterin/
[Opler] Opler & Warren, 2003 (April)
Butterflies of North America. 2. Scientific Names List for Butterfly Species of North America, north of Mexico.
[Pertti Pakkanen]
e-mail: Pertti Pakkanen; Butterfly and moth observations from Finland
[SPRK] Seppänen, E. J, 1970
Suomen suurperhostoukkien ravintokasvit, Animalia Fennica 14
[SVF]
Svenska fjärilar; Naturhistoriska riksmuseet; (Sweden)
[SZMN] Lepidoptera
Siberian Zoological Museum
[Simon Coombes] 1 Park Street, Plymouth, PL3 4BL, UK
01752 607854; e-mail: Simon Coombes; http://www.butterfly-guide.co.uk
[Wahlberg]
Niklas Wahlberg; The NSG's voucher specimen database; Nymphalidae Systematics Group
[ZOBODAT]
[maps]
Warning! The maps are automatically generated from the textual information, and the process does not always produce acceptable result; See about maps for more info.
[˛] This may require parentheses or not. I don't have the necessary information for this taxon.

---
---
If you have corrections, comments or information to add into these pages, just send mail to Markku Savela
Keep in mind that the taxonomic information is copied from various sources, and may include many inaccuracies. Expert help is welcome.