Foodplants for Ascalapha odorata, Bulia deducta, Carmenta prosopis, Echinargus isola, Friseria cockerelli, Hemiargus ceraunus, Rindgea parcata
---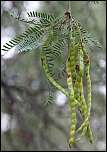 1000x1426 (~153Kb) USA: LepSoc field trip to Patagonia region, Santa Cruz Co., Arizona, 2.8.2005, Photo © Markku Savela
The exact identification of this species is still unknown, but tentatively assumed to belong into this group.
Prosopis glandulosa Torr.

Honey mesquite

Foodplant for Apodemia palmerii, Cydia membrosa, Leptotes marina, Rindgea cyda, R. s-signata, Synchlora frondaria frondaria, Syssphinx heiligbrodti

Prosopis juliflora DC. West Indies, C.America. See [maps]

Mesquit Tree

Foodplant for Apodemia palmerii, Bulia mexicana, Hemiargus ramon, Hemileuca tricolor, Melipotis ochrodes, Ministrymon leda

Prosopis pubescens Benth.

Screwpod mesquite

American screw-bean

Screwbean

Foodplant for Apodemia palmerii, Hemileuca juno

Prosopis velutina Woot.

Velvet mesquite
---
6.12.2006 (4)
References:
[maps]
Warning! The maps are automatically generated from the textual information, and the process does not always produce acceptable result; See about maps for more info.
---
Some related literature:
[GNSP]; Wielgorskaya, 1995
Dictionary of generic names of seed plants Dict. gen. names seed. pl.
---
If you have corrections, comments or information to add into these pages, just send mail to Markku Savela
Keep in mind that the taxonomic information is copied from various sources, and may include many inaccuracies. Expert help is welcome.