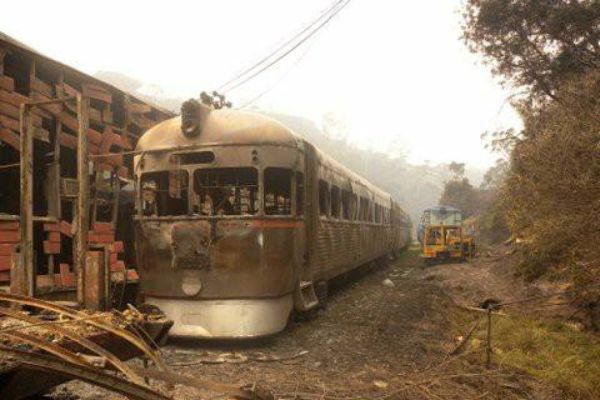 The zigzag railway near Lithgow, New South Wales, Australia is - or rather WAS - a heritage museum railway with steam locomotives. On 17th October 2013 a huge bush fire burned the whole area destroying buildings and trains alike. The heritage museum train company has promised "to be back", but nobody knows if they will ever be able to do so. This title picture shows one of the zigzag trains after the fire. This picture is copyrighted by the Zigzag train company and is NOT public domain.
The following text is from Wikipedia:
"The Zig Zag Railway is an Australian heritage railway, situated near the town of Lithgow in the state of New South Wales. The line climbs the western flank of the Blue Mountains, using railway zig zags to gain height. It opened as a heritage railway in October 1975, using the alignment of the Lithgow Zig Zag line that formed part of the Main Western line between 1869 and 1910.
Operation of the Zig Zag Railway was suspended in 2012 for an indefinite period, following accreditation issues with the New South Wales Government. The railway was aiming to resume services in October 2013, but was then severely damaged during the 2013 NSW Bushfires. There is currently no fixed timetable for reopening but estimates given for getting an engine back on the tracks range from six to 12 months from January 2015. It is hoped to restart in 2016." (Apparently it did not!)
---
FUNET railway pictures archive - Australia - Zigzag railway
For a full scale picture, please click on the picture shown !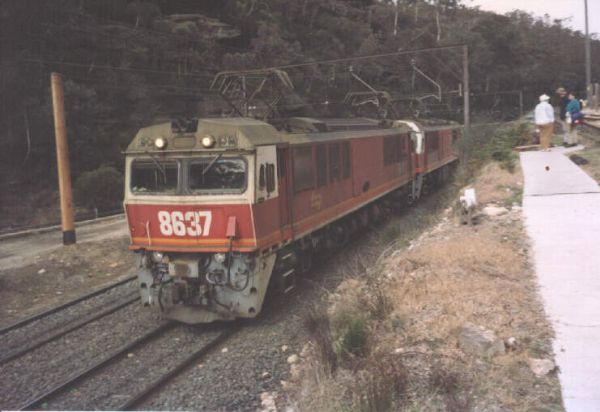 Westbound electrically hauled heavy freight passing the Zig-Zag station, Lithgow, in the Blue Mountains. The tracks of the Zig-Zag railway can be seen on the extreme right of the picture, leading to the workshop.
Date: 16 July 1994 Place: Zig-Zag station, Lithgow, New South Wales
Photo by Dewi Williams (5k) Uploaded Dec 19, 1995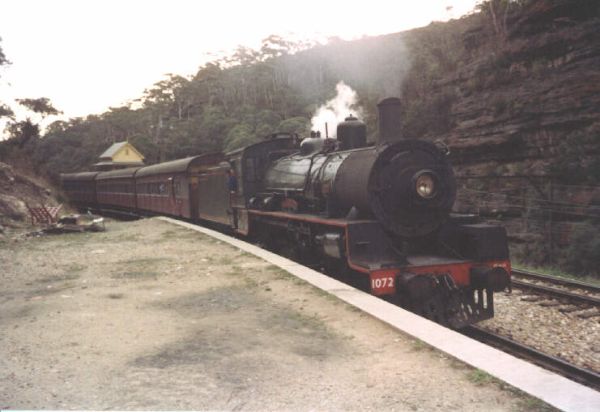 Train arriving at Clarence station (the uppermost station) on the Zig-Zag Railway. The locomotive is no. 1072, a 2-6-0 built in 1957 for Queensland railways. When built, this railway was standard gauge. As rebuilt for enthusiasts and tourists, it is now 1067mm gauge, since it uses Qld. Rlwys equipment.
Date: 16 July 1994 Place: Zig-Zag station, Lithgow, New South Wales
Photo by Dewi Williams (4k) Uploaded Dec 19, 1995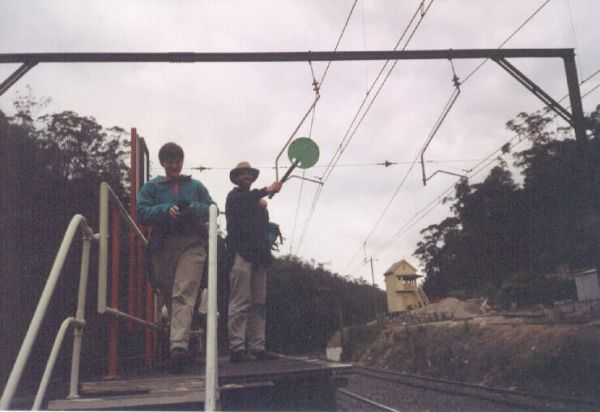 How to board a train at the Zig-Zag station on Sydney's City Rail network. This station is purely a transfer station to the Zig-Zag Railway. The short platform is only about 6 people long, and there are instructions on how the passengers should signal the driver of the train. The approach is around a bend in the mountains. The driver cannot see far ahead, yet must stop on request so that the coach door is at the short platform: a tricky piece of driving.
Date: 16 July 1994 Place: Zig-Zag station, Lithgow, New South Wales
Photo by Dewi Williams (4k) Uploaded Dec 19, 1995
---