Life

Plants

Magnoliophyta

Magnoliophytina

Magnoliopsida

Fabaceae
Genista L.
Foodplants for Agonopterix nervosa, Agrotis endogaea punica, Aplasta (geometra) ononaria?, Aporophyla lutulenta, A. nigra, Artimelia latreillii, Atlantarctica tigrina tigrina, Autophila dilucida, A. hirsuta, Callophrys rubi, Chlorissa (geometra) viridata, Coleophora albicosta, C. colutella, C. trifariella, Coscinia bifasciata, Cupido argiades, Cydia succedana, Dysgonia algira, Elaphria venustula, Glaucopsyche alexis, G. melanops, G. melanops algirica, Lacanobia w-latinum, Lasiocampa staudingeri, Leptotes pirithous, Mirificarma cytisella, M. interrupta, Orgyia josephina, Pericyma albidentaria, Plebejus argus, Polyommatus semiargus, Pseudoterpna coronillaria, Scythris crypta, S. grandipennis, S. nevadensis?, S. seliniella?, Selidosema plumaria, Streblote panda
---
Pensasväriherne
Keltainen väriherne
Dyer's Greenweed
Genista tinctoria, Bilder ur Nordens Flora (in Swedish) [RUNEBERG]

Genista tinctoria ; [SK, 362]; [GMBOT, 507]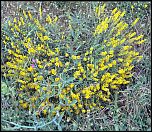 1200x1037 (~399Kb) France: Le-Cannet-des-Maures, Var, 27-V-2007, Photo © Gabriel Alziar
Foodplant for Anania funebris, Bembecia ichneumoniformis?, B. megillaeformis megillaeformis, Coleophora saturatella, C. vibicella, Mirificarma lentiginosella, Plebejus idas, Pseudoterpna coronillaria, P. pruinata, Pyrrhia umbra, Thalera fimbrialis
---
---
22.10.1998 (2)
References:

A Synonymized Checklist of the Vascular Flora of the United States, Puerto Rico, and the Virgin Islands; A data base interface; BONAP U.S. Checklist - 1998; Provided by TAMU-BWG; Texas A & M Bioinformatics Working Group; Based on; Biota of North America Program
Den Virtuella floran; http://linnaeus.nrm.se/flora/welcome.html; Ett projekt vid Naturhistoriska riksmuseet (Stockholm, Sweden).; Even for non-Swedish speaker, the distribution maps on species are nice (map buttons "Norden" and "Norra halvklotet")
Robinson, Benjamin, Fernald, Lyndon, 1908; Gray's New Manual of Botany (7th edition); A Handbook of the Flowering Plants and Ferns of the Central and Northeastern United States and adjacent Canada; American Book Company
Wielgorskaya, 1995; Dictionary of generic names of seed plants
Muséum d'Histoire Naturelle; 60 boulevard Risso; F-06300 Nice (France)
Project Runeberg: Nordic literature online; Project Runeberg; Bilder ur Nordens Fauna (Carl Axel Magnus Lindman)
Mela & Cajander, 1906; Suomen Kasvio; Viides painos
---
If you have corrections, comments or information to add into these pages, just send mail to Markku Savela
Keep in mind that the taxonomic information is copied from various sources, and may include many inaccuracies. Expert help is welcome.