Life

Plants

Magnoliophyta

Magnoliophytina

Liliopsida

Iridaceae
Iris L.
Foodplants for Amphipoea crinanensis?, Apamea (noctua) ophiogramma, Chortodes pygminus, Helotropha leucostigma, Macronoctua onusta, Orgyia leucostigma, Potanthus flava
---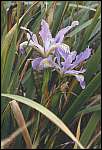 700x1035 (~111Kb) USA: Lighthouse, Cape Blanco, (42°49'43N 124°33'45W ±1km), Curry Co. OR, 2.8.2001, Photo © Markku Savela
The exact identification of this species is still unknown, but tentatively assumed to belong into this group.
---
---
---
---
---
---
---
---
---
---
---
---
---
---
---
---
---
---
---
---
---
---
5.11.2003 (21)
References:

Warning! The maps are automatically generated from the textual information, and the process does not always produce acceptable result; See about maps for more info.
A Synonymized Checklist of the Vascular Flora of the United States, Puerto Rico, and the Virgin Islands; A data base interface; BONAP U.S. Checklist - 1998; Provided by TAMU-BWG; Texas A & M Bioinformatics Working Group; Based on; Biota of North America Program
Den Virtuella floran; http://linnaeus.nrm.se/flora/welcome.html; Ett projekt vid Naturhistoriska riksmuseet (Stockholm, Sweden).; Even for non-Swedish speaker, the distribution maps on species are nice (map buttons "Norden" and "Norra halvklotet")
Hitchcock & Cronquist, 1998; Flora of the Pacific Northwest (11th ed.); ISBN 0-295-95273-3
Robinson, Benjamin, Fernald, Lyndon, 1908; Gray's New Manual of Botany (7th edition); A Handbook of the Flowering Plants and Ferns of the Central and Northeastern United States and adjacent Canada; American Book Company
Finland; For the time being these pictures are only for this site. Other usage not allowed.
Hämet-Ahti, L., Suominen, J., Ulvinen, T. & Uotila, P. (eds), 1998; Retkeilykasvio (Field Flora of Finland); Ed. 4. 656 pp.; Finnish Museum of Natural History, Botanical Museum. Helsinki
Project Runeberg: Nordic literature online; Project Runeberg; Bilder ur Nordens Fauna (Carl Axel Magnus Lindman)
Mela & Cajander, 1906; Suomen Kasvio; Viides painos
---
If you have corrections, comments or information to add into these pages, just send mail to Markku Savela
Keep in mind that the taxonomic information is copied from various sources, and may include many inaccuracies. Expert help is welcome.