Life

Mammalia

Carnivora

Procyonidae
Nasua Storr, 1780

Nasua Storr, 1780; Prodr. Meth. Mamm.: 35, tabl. A

---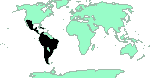 S.Arizona, SW.New Mexico - Mexico, C.America - Brazil - Argentina, !Chile. See [About maps]
Coati
nasua (Linnaeus, 1766); Syst. Nat. (edn. 12) 1: 64, TL: Mexico, Veracruz, Isthmus of Tehuantepec, Achotal
narica
aricana
boliviensis
candace
cinerascens
dorsalis
manium
montana
quichua
solitaria
vittata
| | |
| --- | --- |
| 800x567 (~144Kb) Frankfurt Zoo, Germany, August 1999, Photo © Ralf Schmode | 800x549 (~183Kb) Kruezen Animal Park (Germany), May 1999, Photo © Ralf Schmode |
---
---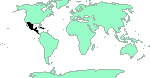 Mexico (Quintana Roo). See [About maps]
Nasua nelsoni Merriam, 1901; Proc. Biol. Soc. Washington, 14: 100, TL: Mexico, Quintana Roo, Cozumel Is.
---
8.10.2001 (3)
References:

Warning! The maps are automatically generated from the textual information, and the process does not always produce acceptable result; See about maps for more info.
Geesthacht, Germany; e-mail: Ralf Schmode; More of similar pictures from Ralf Schmode's; Animal Photography Page
---
Additional information sources:
---
If you have corrections, comments or information to add into these pages, just send mail to Markku Savela
Keep in mind that the taxonomic information is copied from various sources, and may include many inaccuracies. Expert help is welcome.