Life

Insecta

Lepidoptera

Ditrysia

Pyraloidea

Crambidae

Pyraustinae
Mecyna Doubleday, 1849
---
---
---

Mecyna flavalis
(Denis & Schiffermüller, 1775)
Mecyna flavalis, Svenska fjärilar [SVF]
Mecyna flavalis, Moths and Butterflies of Europe [MBE]
Mecyna flavalis, UK Moths [Ian Kimber]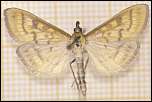 500x333 (~21Kb) FINLAND: Ka: Virolahti, 6719:539, 20-28.7.1995, Markku Savela leg.
Larva on Galium mollugo, Artemisia campestris, Ballota, Reseda, Urtica urens
---
---
---
---
---
---
---
---
flavicoloralis (Grote, 1878)
confovealis (Hulst, 1886)
Mecyna fuscimaculalis ; [NACL, #5136]
---
catenulalis (Grote, 1877)
monulalis (Hulst, 1886)
Mecyna mustelinalis, Moth Photographers Group [MPG]

Mecyna mustelinalis ; [NACL, #5137]
---
Mecyna luscitialis ; [NACL, #5138]
---
7.9.2005 (13)
References:

Global information system on pyraloidea; GlobIZ; Globales Informtationssystem Zünslerfalter; Note This information is not automatically synchronized with GlobIZ and can sometimes be lagging behind.
Moths and Butteflies of Europe; Paolo Mazzei, Diego Reggianti and Ilaria Pimpinelli; http://www.leps.it/
Hodges, 1983; Check List of the Lepidoptera of America North of Mexico
Svenska fjärilar; Naturhistoriska riksmuseet; (Sweden)
---
If you have corrections, comments or information to add into these pages, just send mail to Markku Savela
Keep in mind that the taxonomic information is copied from various sources, and may include many inaccuracies. Expert help is welcome.