Life

Insecta

Lepidoptera

Ditrysia

Papilionoidea

Lycaenidae

Theclinae
Artopoetes Chapman, 1909

Artop÷etes Chapman, 1909; Proc. zool. Soc. Lond. 1909 (2) : 473, TS: Lycaena pryeri Murray
Artopoetes (Theclini) ; Eliot, 1973, Bull. Br. Mus. nat. Hist. (Ent.) 28 (6) : 430
Artopoetes (Lycaenidae) ; [BRU2, 85]

---
NE.China. See [About maps]
Lycaena pryeri Murray, 1873; Ent. mon. Mag. 10 : 126, TL: Japan [Honshu]
Lycaena nakamurai Kanda & Kato, 1931; Insect World[?] 35: 375
?Artopoetes jezoensis Shir˘zu, 1952
Artopoetes pryeri; [BARU, #299]
Artop÷etes pryeri ; Chapman, 1909, Proc. zool. Soc. Lond. 1909 (2) : 473
Artopoetes pryeri ; Shir˘zu, 1962, Ty˘ to Ga 12 (4): 145; [BOW: pl. 205, f. 13]; [MRS, 619]; [BRU2: 85, pl. 49, f. 39-31]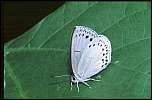 1052x685 (~70Kb) underside Chichibu, Saitama, Japan, 7-95, Photo ę S. Shuichi Haupt
Larva on Syringa amurensis [BHR], Ligustrum obtusifolius, L. tschonoskii, L. ovalifolium, L. salicinum, L. japonicum, Syringa amurensis, S. reticulata Shir˘zu, 1962, Ty˘ to Ga 12 (4): 150, Ligustrum ibota, Syringa vulgaris [MRS]
Japan (Honshu)
Artopoetes pryeri pryeri ; [BRU2, 85]
Japan (Honshu)
Artopoetes pryeri shikokuana ; [BRU2, 85]
Japan (Honshu)
Artopoetes pryeri isurugiae Okano, 1954; Rep. Gakugei Fac. Iwate Univ. 6 (2): 39, TL: Japan, Morioka?
Artopoetes pryeri isurugiae ; [BRU2, 85]
Japan (Honshu)
?yatsukadakensis Murayama, 1954
?pryeri yatsugatakensis Murayama, 1955; New Ent. 3 (4): 35
Artopoetes pryeri yatsugatakensis[sic] ; [NHM]
Artopoetes pryeri yatsugabakensis ; [BRU2, 85]
S.Amur, Ussuri, Korea
Artopoetes continentalis Shir˘zu, 1953; Sieboldia 1 (1952) : 20, TL: NE.Korea
Artopoetes pryeri continentalis ; [BRU2, 85]
---
Artopoetes hoenei D'Abrera, 1993
---
30.11.2012 (2)
References:

Warning! The maps are automatically generated from the textual information, and the process does not always produce acceptable result; See about maps for more info.
Korshunov & Gorbunov; Butterflies of the Asian part of Russia; English translation by Oleg Kosterin; [Dnevnye babochki aziatskoi chasti Rossii. Spravochnik]
D'Abrera; Butterflies of the Holarctic Region, Part I-III
Lewis, 1974; Butterflies of the World; ISBN 0 245 52097 X
Tuzov (ed.), Bogdanov, Churkin, Devyatkin, Dantchenko, Murzin, Samodurov, Zhdanko, 2000; Guide to the Butterflies of Russia and adjacent territories; Libytheidae, Danaidae, Nymphalidae, Riodinidae, Lycaenidae; Volume 2
Chou Io (Ed.); Monographia Rhopalocerum Sinensium, 1-2
Natural History Museum; The Global Lepidoptera Names Index
---
Some related literature:

Chapman, 1909

A review of the species of the lepidopterous genus Lycaenopsis Feld. (Cyaniris auct. nec Dalm.) on examination of the male ancilliary appendages Proc. zool. Soc. Lond. 1909 (2) : 419-476

Eliot, 1973

The higher classification of the Lycaenidae (Lepidoptera): a tentative Arrangement Bull. Br. Mus. nat. Hist. (Ent.) 28 (6) : 373-505, 162fgs, pl. 1-6

Murray, 1873

Description of a new Japanese species of Lycaena, and change of name of L. cassioides Murray Ent. mon. Mag. 10 : 126

Shir˘zu, 1953

New or little know butterflies from the North-Eastern Asia, with some synonymic notes. (1) & (2) Sieboldia 1 (1952) : 11-37, 11pls, : 149-159

Shir˘zu, 1962

Evolution of the food-habits of larvae of the Thecline butterflies (Fifteenth Anniversary (1960) Commemorative Publication) [in Japanese] Ty˘ to Ga 12 (4): 144-162
---
If you have corrections, comments or information to add into these pages, just send mail to Markku Savela
Keep in mind that the taxonomic information is copied from various sources, and may include many inaccuracies. Expert help is welcome.