Life

Insecta

Lepidoptera

Ditrysia

Papilionoidea

Lycaenidae

Polyommatinae
Brephidium Scudder, 1876
---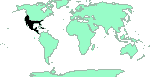 -. See [About maps]
Lycaena exilis Boisduval, 1852; Ann. Soc. ent. Fr. (2) 10 : 294, TL: California
Brephidium exilis exilis, Listing of Mexican Butterflies [ILMB]
Brephidium exilis exilis, Butterflies of America [BOA]
Brephidium exilis, Butterflies and Moths of North America [BAMONA]
Brephidium exile, Butterflies of Southeastern Arizon [Bruce Walsh]

Lycaena exilis ; Godman & Salvin, [1887], Biol. centr.-amer., Lep. Rhop. 2: 109, 3: pl. 58, f. 30-32; Godman & Salvin, [1901], Biol. centr.-amer., Lep. Rhop. 2: 723
Brephidium exile ; [NACL, #4353]
Brephidium exilis ; Dyar, 1903, Bull. U.S. nat. Mus. 52 : 46; [BNA: 394, pl. 38, f. 389]; [BOW: pl. 19, f. 17]; [Opler]; [AfrL]; [NL4A, #1081]
Brephidium exilis exilis ; [BNA, 394]
| | | |
| --- | --- | --- |
| 750x677 (~55Kb) underside USA:Stop at road 70 to Phoenix, San Carlos Apache Reservation (33°13'35N, 110°13'47W), Graham Co., Arizona, 9.8.2005, Photo © Markku Savela | 1500x1141 (~174Kb) upperside USA: Stop at Colorado River on rd. 128 (38°40'56"N, 109°28'42"W), Grand Co., Utah, 15.8.2005, Photo © Markku Savela | 1500x1476 (~216Kb) underside USA: Stop at Colorado River on rd. 128 (38°40'56"N, 109°28'42"W), Grand Co., Utah, 15.8.2005, Photo © Markku Savela |
| 900x1142 (~97Kb) underside USA: Antelope Island, Great Salt Lake (near ~ 41°02'24"N 112°15'31"W), Davis Co., Utah, 17.8.2005, Photo © Markku Savela | | |
Texas, New Mexico, Arizona, Nevada, California, Mexico,
Western Pygmy Blue
Lycaena fea Edwards, 1871; , TL: Texas
Brephidium exilis ab. ♀ coolidgei Gunder, 1925; Ent. News 36 : 2, pl. 1, f. 2, TL: California
Brephidium exilis yucateca Clench, 1970; J. Lep. Soc. 24: (3-6), TL: Progreso, Yucatan, Mexico
Brephidium exilis yucateca, Listing of Mexican Butterflies [ILMB]
Brephidium exilis yucateca, Butterflies of America [BOA]

Brephidium exilis exilis ; [NL4A, #1081a]
Larva on Atriplex canescens, Atriplex coulteri, A. serenana, A. leucophylla, A. patula, A. patula var. hastata, A. semibaccata, A. rosea, A. cordulata, A. hymenelytra, A. lentiformis var. breweri, Suaeda fruticosa, S. californica, S. torreyana, Salicornia virginica, Chenopodium album, C. leptophyllum, Salsola iberica, S. kali var. tenuifolia, Halogeton glomeratus, Trianthema portulacastrum, Sesuvium verrucosum, Batis maritima? [BNA]
New Orleans - Florida, NA.Georgia, Cuba, Bahamas, Grand Cayman
Eastern Pygmy Blue
Lycaena isophthalma Herrich-Schäffer, 1862; CorrespBl. zool.-min Ver. Regensburg 16: 141, TL: Cuba
Brephidium barbouri Clench, 1943; Psyche 49: (52-60) , TL: Great Inagua Island, Bahamas
Brephidium exilis thompsoni Carpenter & Lewis, 1943; , TL: Grand Cayman
Brephidium isophthalma, Georgia Lepidoptera (USA) [GALEPS]

Brephidium isophthalma ; Dyar, 1903, Bull. U.S. nat. Mus. 52 : 46; [NACL, #4354]
Brephidium exilis isophthalma ; [NL4A, #1081b]
---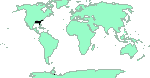 Florida. See [About maps]
Lycaena pseudofea Morrison, 1873; , TL: Florida
Brephidium isophthalma pseudofea Morrison, 1873
Brephidium pseudofea pseudofea, Butterflies of America [BOA]
Brephidium pseudofea, Butterflies and Moths of North America [BAMONA]

Brephidium isophthalma pseudofea ; [NACL, #4354a]
Brephidium exilis pseudofea ; [BNA, 395]
Brephidium pseudopea[sic?] ; [BOW: pl. 19, f. 17 (text only)]
Brephidium pseudofea ; [Opler]; [NL4A, #1082]
Larva on Salicornia bigelovii, S. virginica, Batis maritima? [BNA]
---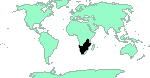 Cape, Orange Free State, Botswana, Moçambique, Rhodesia, South West Africa. See [About maps]
Lycaena metophis Wallengren, 1860; Wien ent. Monats. 4: 37
Brephidium metophis ; [BOW: pl. 120, f. 52]; [BAFR, 551]; [AfrL]
Larva on Exomis axyrioides [PBSA]
---
28.5.2012 (3)
References:

Warning! The maps are automatically generated from the textual information, and the process does not always produce acceptable result; See about maps for more info.
Mark C. Williams; Checklist of Afrotropical Papilionoidea and Hesperoidea; Compiled by Mark C. Williams, 7th ed. (2008) (April 2007); Afrototropical Butterflies; e-mail: Mark C. Williams
D'Abrera, 1980; Butterflies of the Afrotropical Region
Opler, Pavulaan, Stanford & Pogue; Butterflies and Moths of North America; Mountain Prairie Information Node
electronic; BIOLOGIA CENTRALI-AMERICANA
Scott, 1986; The Butterflies of North America
Interactive Listing of American Butterflies; Listado Interactivo de la Mariposas Americanas; Butterflies of America
Lewis, 1974; Butterflies of the World; ISBN 0 245 52097 X
Bruce Walsh; e-mail: Bruce Walsh; The Moths of Southeastern Arizona; Butterflies of Southeastern Arizona
Moths and Butterflies of Georgia and the Southeastern United States; James K. Adams; Dept. of Natural Science, Dalton State College, Dalton, GA ; http://www.daltonstate.edu/galeps/index.htm
Hodges, 1983; Check List of the Lepidoptera of America North of Mexico
Gerardo Lamas, 2004; Atlas of Neotropical Lepidoptera; Checklist: Part 4A; Hesperioidea - Papilionoidea
Opler & Warren, 2003 (April); Butterflies of North America. 2. Scientific Names List for Butterfly Species of North America, north of Mexico.
Dickson, C.G.C (ed.), Kroon, D.M.; Pennington's Butterflies of Southern Africa; AD. DONKER 1978
---
Some related literature:

Boisduval, 1852

Lépidoptères de la Californie Ann. Soc. ent. Fr. (2) 10 : 275-324

Clench, 1943

The Lycaenidae of the Bahama Islands (Lepidoptera: Rhopalocera) Psyche 49 : 52-60 (1942)

Clench, 1970

A new subspecies of Brephidium exilis from Yucatan (Lepidoptera: Lycaenidae) J. Lep. Soc. 24: 3-6

Dyar, 1903

A List of North American Lepidoptera and Key to the Literature of this Order of Insects Bull. U.S. nat. Mus. 52 : 1-723

Eliot, 1973

The higher classification of the Lycaenidae (Lepidoptera): a tentative Arrangement Bull. Br. Mus. nat. Hist. (Ent.) 28 (6) : 373-505, 162fgs, pl. 1-6

Godman & Salvin, [1887]; Godman & Salvin, [1901]

Biologia Centrali-Americana. Rhopalocera. (1887-1901) Biol. centr.-amer., Lep. Rhop. 2: 1-782, 3: pl. 1-112

Gunder, 1925

Several New Varieties of and Aberrant Lepidoptera (Rhopalocera) from California Ent. News 36 : 1-9, pl. 1

Scudder, 1876

Synonymic list of the butterflies of North America, north of Mexico. (2) Rurales Bull. Buffalo Soc. nat. Sci. 3 : 98-129

Wallengren, 1860
---
If you have corrections, comments or information to add into these pages, just send mail to Markku Savela
Keep in mind that the taxonomic information is copied from various sources, and may include many inaccuracies. Expert help is welcome.