Life

Insecta

Lepidoptera

Ditrysia

Noctuoidea

Noctuidae

Xyleninae
Longalatedes Beck, 1991

Longalatedes Beck, 1991; Atalanta 22 (2/4): 214, TS: Phalaena elymi Treitschke
Longalatedes (Apameina) ; [NE8, 17, 28]

---

Longalatedes elymi
(Treitschke, 1825)
coastal (S.Sweden, S.Finland, Denmark, Estonia, N.Poland, N.Germany, E.Great Britain). See [About maps]
Rantavehnä-yökkönen
Lyme Grass
Leucania elymi Treitschke, 1825; in Ochsenheimer, Schmett. Eur. 5 (2): 294, TL: Prussia [Germany]
Tapinostola procera Staudinger, 1889; 47, TL: S of Issyk-kul
Tapinostola procera var. saturatior Staudinger, 1889; 47, TL: Russian East Seacoast
Tapinostola elymi r. askoldensis Turner, 1929; , TL: Askold Island
Arenostola punctivena Draudt, 1950; 127, pl. 8, f. 14, TL: Mien-shan
Chortodes elymi, Svenska fjärilar [SVF]

Chortodes elymi ;
Arenostola elymi ;
Photedes elymi ; [POOLE]
Longalatedes elymi ; [NE8: 89, pl. 7, f. 37-41, (gen) f. 61, 183]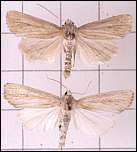 500x556 (~29Kb) FINLAND: N: Bromarv?, m 29-4.8.1970, E. Laasonen leg.; Ab: Dragsfjärd, Örö, 664:23, f 10-11.7.1971, Antti Aalto leg.
Larva on Elymus arenarius
---
7.3.2008 (1)
References:

Warning! The maps are automatically generated from the textual information, and the process does not always produce acceptable result; See about maps for more info.
Zilli, Ronkay & Fibiger, 2005; Noctuidae Europaeae 8: 323pp; Apameini
Poole, 1989; Lepidopterorum catalogus (n.s.) 118 - Noctuidae
Svenska fjärilar; Naturhistoriska riksmuseet; (Sweden)
---
Some related literature:

Beck, 1991

Taxonomische Änderungen bei den Noctuinae, Cuculliinae und Plusiinae Atalanta 22 (2/4): 175-232
---
If you have corrections, comments or information to add into these pages, just send mail to Markku Savela
Keep in mind that the taxonomic information is copied from various sources, and may include many inaccuracies. Expert help is welcome.