Life

Insecta

Lepidoptera

Ditrysia

Noctuoidea

Noctuidae

Hadeninae
Senta Stephens, 1834

Senta Stephens, 1834; 297, TS: Melia flammea Curtis
Meliana Curtis, 1836; , TS: flammea Curtis Senta (Hadeninae) ; [POOLE]
Senta (Mythimnini) ; [FE]; [NE4, 168]

---

Senta flammea
(Curtis, 1828)
NEU, CEU. See [About maps]
Ruokoyökkönen
Flame Wainscot
Melia flammea Curtis, 1828; pl. 201, TL: Near London, Lewisham
Simyra dubiosa Treitschke, 1835; 86
Nonagria arundinicola Doubleday, 1848; 7, TL: Great Britain
Meliana flammea var. stenoptera Staudinger, 1892; 474, TL: Wladiwostok; Sidemi
Senta flammea, Svenska fjärilar [SVF]
Senta flammea, UK Moths [Ian Kimber]

Senta stenoptera ; [POOLE]
Mythimna flammea ;
Senta flammea ; [POOLE]; [NE4, 168]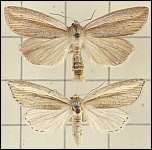 500x494 (~35Kb) FINLAND: N: Helsinki, m+f 11.6.1970, Markku Savela leg.
Larva on Phragmites [SPRK]
---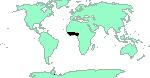 Togo. See [About maps]
Meliana lunulata Gaede, 1916; 119, pl. 1, f. 7, TL: Togo, Bismarckburg
Senta lunulata ; [POOLE]
---
20.4.2008 (2)
References:

Warning! The maps are automatically generated from the textual information, and the process does not always produce acceptable result; See about maps for more info.
Fauna Europaea; Fauna Europaea
Hacker, Ronkay & Hreblay, 2002; Noctuidae Europaeae 4; Hadeninae I
Poole, 1989; Lepidopterorum catalogus (n.s.) 118 - Noctuidae
Seppänen, E. J, 1970; Suomen suurperhostoukkien ravintokasvit, Animalia Fennica 14
Svenska fjärilar; Naturhistoriska riksmuseet; (Sweden)
---
If you have corrections, comments or information to add into these pages, just send mail to Markku Savela
Keep in mind that the taxonomic information is copied from various sources, and may include many inaccuracies. Expert help is welcome.