Life

Insecta

Lepidoptera

Ditrysia

Hesperioidea

Hesperiidae

Pyrginae
Hesperopsis Dyar, 1905

Hesperopsis Dyar, 1905; J. N.Y. ent. Soc. 13 : 118, TS: Thanaos alpheus Edwards
Hesperopsis (Pyrgini) ; [NL4A, 49]

---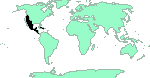 New Mexico, Arizona, Mexico. See [About maps]
Saltbush Sootywing
Thanaos alpheus Edwards, 1876; Trans. amer. ent. Soc. 5 : 206, TL: New Mexico
Hesperopsis alpheus alpheus, Listing of Mexican Butterflies [ILMB]
Hesperopsis alpheus alpheus, Butterflies of America [BOA]
Hesperopsis alpheus, Butterflies and Moths of North America [BAMONA]

?Pholisora aepheus[sic] ; [BOW: pl. 22, f. 23]
Pholisora alpheus ; Godman & Salvin, [1897], Biol. centr.-amer., Lep. Rhop. 2: 442, 3: pl. 90, f. 15; Dyar, 1903, Bull. U.S. nat. Mus. 52 : 59; [NACL, #3980]
Hesperopsis alpheus ; [NL4A, #809]; [Opler]
Larva on Atriplex canescens [NAB]
New Mexico, Mexico
alphaeus ; Dyar, 1905, (missp.)
Hesperopsis alpheus alpheus ; [NL4A, #809a]
Nevada, Arizona
Pholisora alpheus oricus Edwards, 1879; (?1876), TL: Carson Valley, Douglas Co., Nevada
Hesperopsis arizonensis Mabille & Boullet, 1917; , TL: Arizona
Pholisora alpheus oricus ; [NACL, #3980a]
Hesperopsis alpheus oricus ; [NL4A, #809b]
---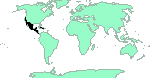 Mexico (Baja?), California. See [About maps]
'McNeil's' Saltbush Sootywing
Pholisora gracielae MacNeill, 1970; Ent. News 81 (7): (177-184) , TL: California
Hesperopsis gracielae, Listing of Mexican Butterflies [ILMB]
Hesperopsis gracielae, Butterflies of America [BOA]
Hesperopsis gracielae, Butterflies and Moths of North America [BAMONA]

Hesperopsis alpheus gracielae ;
graciliae ; Wiesenborn, 1997, (missp.)
Pholisora gracielae ; [NACL, #3981]
Hesperopsis gracielae ; [NL4A, #810]; [Opler]
---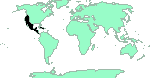 Nevada - California, Mexico. See [About maps]
Mojave Sootywing
Great Basin Sootywing
Lena Sooty Wing
Mohave Sootywing
Heteropterus libya Scudder, 1878; Bull. U.S. Geol. Surv. 4 (1) : 258, TL: Arizona
Hesperopsis libya libya, Listing of Mexican Butterflies [ILMB]
Hesperopsis libya, Butterflies of America [BOA]
Hesperopsis libya, Butterflies and Moths of North America [BAMONA]
Hesperopsis libya libya, Butterflies of Southeastern Arizon [Bruce Walsh]

Pholisora libya ; Dyar, 1903, Bull. U.S. nat. Mus. 52 : 59; [BOW: pl. 22, f. 23 (text)]; [NACL, #3979]
Hesperopsis libya ; [BOC, 63]; [NL4A, #811]; [Opler]
Larva on Atriplex canescens [NAB]
Arizona, ...
Hesperopsis libya libya ; [NL4A, #811a]
Ancyloxypha lena Edwards, 1882; Can. Ent. 14 (1) : 5, TL: Miles City
Pholisora lena ; Dyar, 1903, Bull. U.S. nat. Mus. 52 : 59
Pholisora libya lena ; [NACL, #3979a]
Hesperopsis libya lena ; [BOC, 63]
California
Hesperopsis libya joaquina Emmel, Emmel & Mattoon, 1998; , TL: Kern Co., California
---
27.7.2008 (3)
References:

Warning! The maps are automatically generated from the textual information, and the process does not always produce acceptable result; See about maps for more info.
Opler, Pavulaan, Stanford & Pogue; Butterflies and Moths of North America; Mountain Prairie Information Node
electronic; BIOLOGIA CENTRALI-AMERICANA
Interactive Listing of American Butterflies; Listado Interactivo de la Mariposas Americanas; Butterflies of America
Robert Michael Pyle, 2002; The Butterflies of Cascadia
Lewis, 1974; Butterflies of the World; ISBN 0 245 52097 X
Bruce Walsh; e-mail: Bruce Walsh; The Moths of Southeastern Arizona; Butterflies of Southeastern Arizona
Gerardo Lamas; Bibliography of butterflies; An Annocated Bibliography of the Neotropical Butterflies and Skipper (Lepididoptera: Papilionoidea and Hesperioidea); Revised Electronic Edition (2007)
Pyle, 1981; Field Guide to North American Butterflies, National Audubon Society; ISBN 0-394-51914-0
Hodges, 1983; Check List of the Lepidoptera of America North of Mexico
Gerardo Lamas, 2004; Atlas of Neotropical Lepidoptera; Checklist: Part 4A; Hesperioidea - Papilionoidea
Opler & Warren, 2003 (April); Butterflies of North America. 2. Scientific Names List for Butterfly Species of North America, north of Mexico.
---
Some related literature:

Dyar, 1903

Dyar, 1905

Edwards, 1876

Edwards, 1882

Godman & Salvin, [1897]

MacNeill, 1970

Scudder, 1878
---
If you have corrections, comments or information to add into these pages, just send mail to Markku Savela
Keep in mind that the taxonomic information is copied from various sources, and may include many inaccuracies. Expert help is welcome.