Life

Insecta

Lepidoptera

Ditrysia

Hesperioidea

Hesperiidae

Pyrginae
Chamunda Evans, 1949

Chamunda Evans, 1949; Cat. Hesp. Europe Asia Australia Brit. Mus. : 14, 127, TS: Plesioneura chamunda Moore

---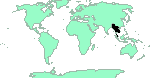 Assam - Burma, Thailand, Laos, Malay Peninsula, Java?. See [About maps]
Plesioneura chamunda Moore, [1866]; Proc. zool. Soc. Lond. 1865 (3) : 788, TL: Darjeeling
Chamunda chamunda, Butterflies in Indo-China [Yutaka Inayoshi]

?Celaenorrhinus chamunda ; [BOW: pl. 185, f. 39 (text)]
Chamunda chamunda ; Inoue & Kawazoe, 1965, Tyō to Ga 15 (4) : 91, f. 31-32; [BOW: pl. 168, f. 5]; [BMP: 342, pl. 53, f. 19]
---
24.11.2012 (1)
References:

Warning! The maps are automatically generated from the textual information, and the process does not always produce acceptable result; See about maps for more info.
Eliot (Ed.), Corbet & Pendlebury, 1992; The Butterflies of The Malay Peninsula; 4th edition; ISBN 983-9681-05-2
Lewis, 1974; Butterflies of the World; ISBN 0 245 52097 X
A Check List of Butterflies in Indo-China; Chiefly from THAILAND, LAOS & VIETNAM
---
Some related literature:

Evans, 1949

A catalogue of the Hesperiidae from Europe, Asia and Australia in the British Museum Cat. Hesp. Europe Asia Australia Brit. Mus. : 1-502, pl. 1-53

Inoue & Kawazoe, 1965

Hesperiid butterflies from South Vietnam (2) Tyō to Ga 15 (4) : 84-105

Moore, [1866]
---
If you have corrections, comments or information to add into these pages, just send mail to Markku Savela
Keep in mind that the taxonomic information is copied from various sources, and may include many inaccuracies. Expert help is welcome.