Life

Insecta

Lepidoptera

Ditrysia

Hesperioidea
Hesperiidae Latreille, 1809

Paksupäät

Hesperider, Tjockhuvudfjärilar

Skippers


Hesperiidae, Lepidoptera collection [SZMN]
Hesperiidae, Butterflies and Moths of North America [BAMONA]
Hesperiidae, Norges Sommerfugler [NORLEP]
Hesperiidae (Hesperioidea) ; [NACL, 42]; [NL4A, 25]
Hesperiidae (Papilionoidea) ; van Nieukerken et al., 2011, Zootaxa 3148 : 216

Pyrrhopyginae
— 163 spp.
Coeliadinae
Policemen
— 90 spp.

Pyrginae
Flats
Grizzled Skippers
Dicot Skippers
Spread-wing Skippers
— 1416 spp.

Heteropterinae
Grass Skippers
Different-winged Skippers
— 192 spp.

Hesperiinae
Grass Skippers
Monocot Skippers
Folded-winged Skippers
— 2021 spp.
Trapezitinae
— 75 spp.
Megathyminae
— 40 spp.
---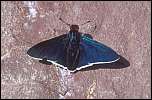 500x326 (~60Kb) Venezuela, Parai Tepui near Mount Roraima in the Gran Sabana, July 2002, Photo © Simon Coombes
The exact identification of this species is still unknown, but tentatively assumed to belong into this group.
---
Unknown or unplaced taxa
---
Hesperilla bifasciata Tepper, 1882
---
22.1.2013 (3997)
References:

Opler, Pavulaan, Stanford & Pogue; Butterflies and Moths of North America; Mountain Prairie Information Node
Hodges, 1983; Check List of the Lepidoptera of America North of Mexico
Gerardo Lamas, 2004; Atlas of Neotropical Lepidoptera; Checklist: Part 4A; Hesperioidea - Papilionoidea
Lepidoptera; Siberian Zoological Museum
1 Park Street, Plymouth, PL3 4BL, UK; 01752 607854; e-mail: Simon Coombes; http://www.butterfly-guide.co.uk
---
Some related literature:

van Nieukerken et al., 2011

in Zhang (Ed.), Animal biodiversity: An outline of higher-level classification and survey of taxonomic richness. Order Lepidoptera Linnaeus, 1758 Zootaxa 3148 : 212-221
---
If you have corrections, comments or information to add into these pages, just send mail to Markku Savela
Keep in mind that the taxonomic information is copied from various sources, and may include many inaccuracies. Expert help is welcome.