Smerinthinae Grote & Robinson, 1865
Tribe Ambulycini Butler, 1876
Ambulycini (Smerinthinae); [RFEL]
---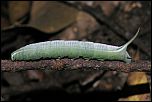 1142x758 (~243Kb) larva Thailand, Chantaburi Province, Khao-Khitchakut National Park, a shady evergreen forest in the left catchment basin of the Krating River. 6th January 2006, Photo © Oleg Kosterin
The exact identification of this species is still unknown, but tentatively assumed to belong into this group.
---
7.6.2023 (361)
---
Some related literature:
[HMW]; Kitching & Cadiou, 2000
An annotated and illustrated revisionary checklist (Lepidoptera: Sphingidae) Hawkmoths of the World
[RFEL]; Leley, 2016
Annotated catalogue of the insects of Russian Far East. Volume II. Lepidoptera Cat. ins. Russian Far East. 2 : 1-812
---
If you have corrections, comments or information to add into these pages, just send mail to Markku Savela
Keep in mind that the taxonomic information is copied from various sources, and may include many inaccuracies. Expert help is welcome.