Life

Aves
Charadriiformes

Rantalinnut

Shorebirds, Gulls, Alcids


Charadriiformes ; [AVTAX]

Turnicidae

Burhinidae
Mathews, 1912
Paksujalat
Chionidae
Lesson, 1828
Pluvianellidae
Reichenbach, 1848

Haematopodidae
Meriharakat
Oystercatchers
Dromadidae
Ibidorhynchidae

Recurvirostridae
Avosetit
Avosets, Stilts

Charadriidae
Leach, 1820
Kurmitsat
Plovers, Lapwings
Pluvianidae
MacGillivray, 1852
Rostratulidae
Mathews 1911 Citation,
Jacanidae
Chenu & Des Murs, 1854
Pedionomidae
Bonaparte, 1856
Thinocoridae
Sundevall, 1836

Scolopacidae
Rafinesque, 1815
Kurpat
Sandpipers

Glareolidae
Brehm, 1831
Pääskykahlaajat

Laridae
Lokit,Tiirat
Gulls,Terns

Stercorariidae
Kihut
Jaegers, Skuas

Alcidae
Ruokit
Alcids
---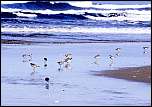 1000x697 (~104Kb) USA: Oregon Dunes (43°52'59N 124°09'16W ±1km), Lane Co. OR, 1.8.2001, Photo © Markku Savela
The exact identification of this species is still unknown, but tentatively assumed to belong into this group.
---
15.6.2011 (383)
References:

[AVTAX]

Zoonomen; Extracted during June 2011, for most recent information, verify using links provided; Zoological Nomenclature Resource; Birds of the World -- current valid scientific avian names
---
If you have corrections, comments or information to add into these pages, just send mail to Markku Savela
Keep in mind that the taxonomic information is copied from various sources, and may include many inaccuracies. Expert help is welcome.