Switzerland
Welcome to the Swiss railroads section of the FUNET Railway pictures archive
Trams, BVB Basel Verkehrsbetriebe
BVB - or B.St.B. as it was in 1895 when it was founded - is the company of the "green" trams of the city of Basel, owned by the City of Basel. Basel is a peculiar city with two tram companies operating on the same tracks. The "city" trams of BVB are green and the Baselland BLT trams, which operate a couple of longer lines from the city out into Kanton Baselland are yellow and red.
BVB has a lot of traditions and it used to have a network which reached far into the neighbouring country of Germany still at the time of Hitler´s "Third Reich": the BVB network reached from Basel both the city of Lörrach in Baden-Württemberg and also St. Ludwig (nowadays St.Louis) in Elsass, now Alsace, France, as well as over the so called BUeB, Basler Überlandsbahn over to almost Liestal, today´s capital of Kanton Baselland.
Today Basel is a small town with a highly developed tramway system. Car traffic in the old city has been made almost impossible, with a deliberately strange traffic policy which tries to push people to use public transport. Car parking is all but hopeless, but at least the writer has never seen such an extensive and efficient tram network in such a small town as Basel.
---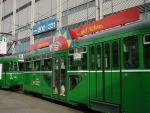 One way of modernising - or spoiling - old trams: the Basel BVB modernises all its 1950´s trailer carriages by making the central part of the wagon low floor and adding in this new "low floor department" a non-matching pair of modern doors that open outwards, creating a funny looking contrast with the old pair of doors still left only offset by about a meter. These "modernised" trailer coaches are mainly used in 3 coach combinations as the middle coach, as here no. 1481 as a middle coach on line 6. In the background old, but now also "modernised" motor wagon 475 is now used as the second trailer. Photo in June 1999 by Ilkka Siissalo, ilkka.siissalo(at-sign)iki.fi Uploaded Jun 5, 1999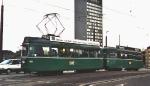 The Basel BVB 400 series tram from the 1940´s no. 450 together with its trailer coach no. 1411 on line 15 at Grosspeterstrasse on their way towards Bruderholz. This shows them in their original form - the BVB has very crudely "modernised" most of these old wagons, lengthening their life span but at the same time spoiling their look and feel. Photo in May 1999 by Ilkka Siissalo, ilkka.siissalo(at-sign)iki.fi Uploaded May 24, 1999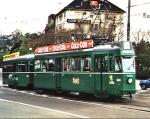 The Basel BVB 400 series tram no 434 with trailer 1489 still in their original form, here seen on line 15 near the tram station Münchensteinerstrasse, on way to Mustermesse. In their old form the 400 series trams with their wooden benches are noisy, but with the old atmosphere. Photo in May 1999 by Ilkka Siissalo, ilkka.siissalo(at-sign)iki.fi Uploaded May 24, 1999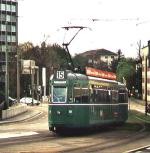 After modernisation the Basel 400 series trams are now thyristor-driven, they have lost their old round headlight in favor of a small modern rectangular halogen, they have a new, modern "Einholm" style current aerial on the roof and several new ventilation openings have been cut on the sides, along with holes for new axles. Benches are renewed as well, and they are capable of multiple coupling, allowing the BVB to use them in combinations of 2 or more motor units. Photo of no 464 on line 15 in May 1999 by Ilkka Siissalo, ilkka.siissalo(at-sign)iki.fi Uploaded May 24, 1999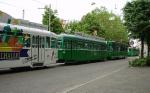 Another view of a Basel three coach tram combination, with no. 473 leading two coaches of the 1400 series, 1458 and an unidentified one, to the turnaround circle of line 14 at Messeplatz, Kleinbasel. More and more of the trams are painted with full coach size commercial ads, like the second trailer here. This kind of three wagon combinations with only one motor wagon often have problems during slippery weather. Photo in June 1999 by Ilkka Siissalo, ilkka.siissalo(at-sign)iki.fi Uploaded Jun 5, 1999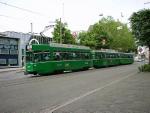 Three coach trams are typical of the long tram lines of Basel, either as motor wagon - trailer - trailer combination, like here, or MW-MW-trailer, or MW-trailer-MW. Here tram no. 479 leading two of the 1400 series trailers on line 6 arriving at Messeplatz in Kleinbasel. Photo in June 1999 by Ilkka Siissalo, ilkka.siissalo(at-sign)iki.fi Uploaded Jun 5, 1999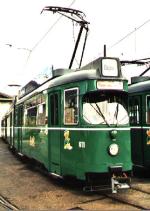 The 600 series BVB trams of Basel are typical articulated tram of the 1960´s. They are most often used (except on line 1) as pairs, which creates a really long vehicle. Here no. 611 with no. 615 as its trailer wagon at the Wolfgottsacker depot. This combination has been on line 3, but they are also typically used on the very long line 14 to Muttenz and Pratteln. Photo in May 1999 by Ilkka Siissalo, ilkka.siissalo(at-sign)iki.fi Uploaded Jun 5, 1999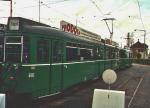 BVB 600 series tram from behind. The picture also shows how very long the typical operating combinations of two similar wagons are. They need extremely long platforms at major stops. Photo of numbers 615 and 611 at Wolfgottesacker depot in May 1999 by Ilkka Siissalo, ilkka.siissalo(at-sign)iki.fi Uploaded Jun 5, 1999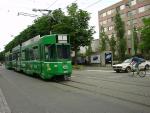 Combination of the 1970´s Basel BVB articulated tram no.680 with a 1950´s trailer coach, both in their not-yet-modernised state, here in full speed on line 1 on Riehenring, Kleinbasel. BVB modernises the 680 series articulated trams by adding a new low floor part which elongates the tram by about 10 meters. The old trailers are also forcefully modified as low floor coaches, by cutting a low floor section in the middle of the coach. Photo June 1st 1999 by Ilkka Siissalo, ilkka.siissalo(at-sign)iki.fi (13k) Uploaded Jun 5, 1999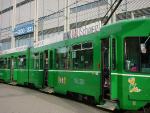 Another view of the BVB articulated tram no. 680, here at Messeplatz on line 1. Photo June 1st 1999 by Ilkka Siissalo, ilkka.siissalo(at-sign)iki.fi Uploaded Jun 5, 1999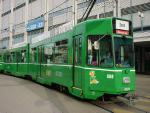 The BVB articulated tram no. 680 leaving Messeplatz on line 1. Photo June 1st 1999 by Ilkka Siissalo, ilkka.siissalo(at-sign)iki.fi Uploaded Jun 5, 1999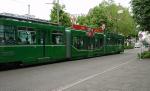 An example of how the Basel 680 series articulated trams of the 1970´s look like after BVB has modernised them by adding a new low floor section in the middle of the tram. It "almost fits", but not quite, since the doors and other parts of the new section are of a much newer style. This kind of elongated trams still usually have a 1950´s style trailer coach behind them, creating a really long combination. Photo in June 1999 by Ilkka Siissalo, ilkka.siissalo(at-sign)iki.fi Uploaded Jun 5, 1999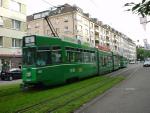 Tram combination of the new century ? I hope not. A Basel 1970´s 680 series tram which has gotten a 1990´s brand new low floor segment in its "modernisation", with a 1950´s trailer coach, arriving here at full speed to the Badische Bahnhof in Kleinbasel on line 6. Photo in June 1999 by Ilkka Siissalo, ilkka.siissalo(at-sign)iki.fi Uploaded Jun 5, 1999