Switzerland
Welcome to the Swiss railroads section of the FUNET Railway pictures archive
SPB Schynige Platte-Bahn
Schynige Platte-Bahn, which belongs to the same company group as BOB, Berner Oberlandbahn, is just a short sidetrack of the BOB route Interlaken-Lauterbrunnen, only 7 km long and leading from the village of Wilderswil (quite next to the town of Interlaken) only to the platform like area of Schynige Platte (=beautiful plateau), which has a magnificent view over the town of Interlaken and the Lake Thun, which is said to be one of the most photographed lakes on earth. The railroad is a pure tourist attraction, run with locomotives from 1910-14 and coaches from 1910-1930s, a place where rich tourists are taken against a robberīs fee up the wonderful hillside in the old style in old coaches along the steep narrow gauge, cog wheel track.
The company operates only during summer, usually using 2 of their totally 12 He 2/2 locomotives from 1910-14. All other railroads including the mother company BOB and the nearby WAB have stopped using the old Heīs due to their unreliability. In fact, 8 out of the 12 He 2/2īs of SPB are from ex. WAB.
The railroad was opened 14.6.1893 and uses a gauge width of 800 mm (as BOB, WAB, Jungfraubahn and others nearby) and is electrified with 1500V DC since the beginning of the 1900s.
---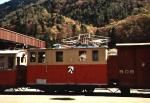 The Schynige Platte-Bahn museum locomotive He 2/2 no. 14. This cog wheel, two axle plus cog wheels locomotive was built in 1914 by SLM/BBC. It weighs 16,3 tons (Sic! - compare with the really small size!) and is only 5,74 m long. These small cog wheelers were built between 1909 and 1924 and were used on railroads all the way up to Jungfraujoch, well above 3000 m above sea level. Some, like this one, are still used as museum trains for expensive charter trips for tourists. Its maximum speed is a modest 12 km/h. Photo at Wilderswil station in May 1999 by Ilkka Siissalo, ilkka.siissalo(at-sign)iki.fi (9k) Uploaded May 24, 1999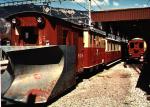 Special steering cabin / snow plough wagons had to be used in the beginning of the last century in front of He 2/2 locomotives during wintertime in the harsh alpine conditions above 3000 m altitude. This one is attached in front of a tourist attraction museum train at Wilderswil. Photo in May 1999 by Ilkka Siissalo, ilkka.siissalo(at-sign)iki.fi (12k) Uploaded May 24, 1999

The turn of the century museum train is waiting for rich tourists for another charter ride high up to Schynige Platte. All the coaches are from late 1800īs or very early 1900īs. Photo in May 1999 in Wilderswil by Ilkka Siissalo, ilkka.siissalo(at-sign)iki.fi (12k) Uploaded May 24, 1999