Switzerland
Welcome to the Swiss railroads section of the FUNET Railway pictures archive
CJ - Chemin de Fer du Jura
CJ - Chemin de Fer du Jura operates both normal gauge and narrow gauge short-haul services in the rural alpine countryside of the French speaking Kanton Jura, close to the French border. Centers of their operations are Tavannes, Tramelan and SaignelÚgier. The CJ network┤s first parts were opened for traffic already in 1884. They have a network of 85 km total, most of which is 1 metre gauge narrow gauge track electrified with 1500V DC. In 1999 CJ had for the narrow gauge traffic 3 electric locomotives, 1 old diesel locomotive and 13 EMUs, out of which the 1985 built BDe 4/4 II series EMUs are the youngest and most used. For normal gauge (1435 mm) 15 kV traffic CJ has one locomotive and two old EMU wagons.
---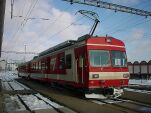 CJ, Chemin de Fer du Jura, is one of Switzerland┤s many small private railroads. They have both narrow gauge and normal gauge rail lines; this is from one of their narrow gauge operations in the mountainous countryside of Kanton Jura. These BDe 4/4 electric motor units were taken into operation in 1985; CJ has four of these units. They were acquired together with AB, Appenzeller Bahn and are identical to AB┤s five units. Maximum speed is 90 km/h, the EMU wagon is 18,73 m long and weighs 36 tons. The design is based on an earlier model built in 1981 for that time SGA (now part of AB), but the key difference is the missing of a cog wheel drive. Look and feel has a lot in common with the so called NPZ normal gauge EMUs of SBB and others (e.g. SBB RBDe 560). In addition to these, CJ has 12 other narrow gauge EMUs from years 1952-90.
Photo of CJ BDe 4/4 no 612 at 1. Nov. 2001 by Ilkka Siissalo
Uploaded 15.6.2002.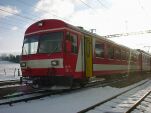 The other end of the train: CJ┤s electric motor unit is coupled to a matching steering wagon, ABt712. Although built at the same time than the EMU itself, the design is not identical: for example doors are completely different than in the motor wagon. CJ also has matching middle coaches of the so called class "B", which are identical in style to these ABt steering wagons.Photo of CJ ABt no. 712 at 1. Nov. 2001 by Ilkka Siissalo
Uploaded 15.6.2002.

Exactly the same train no. 612 about half a year later, photographed at the Glovelier station in the burning heat of the summer. Glovelier station looks funny: the "real" trains of SBB arrive at the platforms just like at any other station, but the narrow gauge CJ trains are on the street amongst the cars and buses behind the station, between the station and the "Hotel de la Gare" (hotel station). Photo at Glovelier 22.6.2002 by Ilkka Siissalo.
Uploaded 22.6.2002.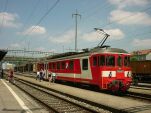 CJ┤s normal gauge network is really short: only the small piece of railroad from the small town of Porrentruy (and the main railroad of SBB) to the village of Bonfol at the French border, about 10 km. For this piece of railroad CJ bought together with the SZU Sihltalbahn one coach EMU units of the type BDe 4/4 (nowadays BDe 577) in 1968. SZU bought 5 units and CJ has two. The EMU is 22,35 metres long, it weighs 51 tons (SZU┤s version 53t). Maximum speed is 70 km/h. Although the trains are from the 1960s, passengers┤ traveling standards look more like from the 1940s: the trains have wooden hard benches and the overall look and feel is like from days long gone by. Photo at Porrentruy station 22.6.2002 by Ilkka Siissalo
Uploaded 22.6.2002.


Another view of the BDe 577 no 101 at Porrentruy. This no. 101 was badly damaged in an accident in 1995. In the subsequent reparations it got CJ┤s present red and white colouring as well as the current numbering to BDe 577 101. SZU Sihltalbahn sold one of its similar trains away to Steiermarkische Landesbahn in Austria in 1996, so now there are just six left of these oldies. Photo at Porrentruy station 22.6.2002 by Ilkka Siissalo
Uploaded 22.6.2002.