Switzerland
Welcome to the Swiss railroads section of the FUNET Railway pictures archive
BLM - Bergbahn Lauterbrunnen - Mürren
BLM Mürrenbahn is truly one of the strange railroads of Switzerland. To understand exactly where it is, we must describe a little the surroundings:
Interlaken is a beautiful town between two picturesque lakes in central Switzerland and it´s also famous for its ski tourists. Many of the skiers stay overnight - and enjoy the night life - in Interlaken, but to get to their favourite slopes in the small villages high up, for example Mürren, they first in the morning pack their gear in the narrow gauge, partly cog wheel trains of BOB, Berner Oberlandbahn, which takes them in about an hour to Lauterbrunnen, a beautiful village at the bottom of a valley. From Lauterbrunnen, one can take either the WAB Wengernalpbahn cog wheel trains up to famous villages such as Wengen, or on the other side try to get to Mürren. BLM Mürrenbahn operates first a very old cog wheel service with just two small wagons running at about 40 degrees slope - what feels to be directly upwards to Grütschalp, which is basically just one house, literally hanging on the steep mountainside, where people switch from one train operating up and down to a "normal" (but of course narrow gauge) train operating horizonally as trains often do ;-) But this train is really in the middle of nowhere: it´s horizonally on a narrow rim, like a balcony, 1,5 km high, along the mountainside, only about 4,5 km long and leading from the one house of what is Grütschalp to the beautiful mountain village of Mürren and its ski slopes. Needless to say there are no cars in Mürren.
For the occasional visitor the first mystery is how on earth the Swiss have managed to get three normal sized EMU coaches (okay, one very old and three newer) up there in the 1960s (The history has it they managed to use somehow miraculously the first cog wheeler train to lift them right up !!) and secondly how in the name of all the Gods have they managed to run over one million kilometres (sic!) on both of the current EMUs on a railroad which is only 4,5 km long !
This exotic piece of railroad history was opened to service already 14.9.1891. Wheel gauge is 1 metre and as we are in Switzerland the railroad is of course fully electrified - has been already from the beginning of the 1900s.
The Swiss are truly persistent when it comes to railroads and mountains :-) But maybe that´s exactly why so many tourists want to come and see them.
---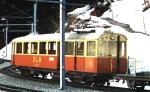 The old CFe 2/4 no 11 from 1913 of the BLM Mürrenbahn was replaced in 1967 by the newer two electric motor units. However, it is kept in top shape and used for "nostalgy trips" along this short mountain railway. Photo at Grütschalp in May 1999 by Ilkka Siissalo, ilkka.siissalo(at-sign)iki.fi (11k) Uploaded May 24, 1999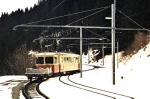 The Mürrenbahn narrow gauge railway of the private BLM is only a less than 5 km long relatively flat railroad high over the village of Lauterbrunnen on a balcony like mountainside near Interlaken. It seems a mystery to the tourist how the Swiss have managed to get the heavy trains up there. This Be 4/4 no. 21 from 1967 has already been used for over 1 million kilometers on a railroad of 4,5 km total. The BLM has three trains up there. Photo at Grütschalp station in December 1998 by Ilkka Siissalo, ilkka.siissalo(at-sign)iki.fi (10k) Uploaded May 24, 1999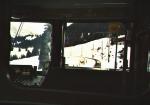 A view through the driver´s window of the BLM Mürrenbahn Be 4/4 on way from Grütschalp to Mürren. In some places the over 100 years old narrow track railroad runs on cliffsides where there is only a couple of meters space, with the mountain on the right and a free fall of about 500 m waiting on the left side of the track. No wonder the maximum allowed speed is a modest 30 km/h. Photo by Ilkka Siissalo, ilkka.siissalo(at-sign)iki.fi (5k) Uploaded May 24, 1999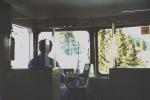 Another view through the driver´s window of the BLM Mürrenbahn Be 4/4 on way through the 3 meter high snow from Mürren to Grütschalp. The early 1999 extreme snowfalls and avalanches cut the 4,5 km long railroad in at least two places, so extreme care is needed in driving. The speed is between 5 to 10 km/h. Photo in May 1999 by Ilkka Siissalo, ilkka.siissalo(at-sign)iki.fi (8k) Uploaded May 24 1999