Switzerland
Welcome to the Swiss railroads section of the FUNET Railway pictures archive
Cisalpino
Cisalpino was one of the first Swiss railroad companies without even a piece of a railroad track of its own. When Germany started with its own super-fast ICE bullet trains, France had its TGV bullet trains and many other countries also moved on to this new era of EMU trains, Switzerland felt that it also needed to do something. SBB bought from France one TGV train and put it in traffic between Lausanne and France. But that was not enough. The country itself is ridiculously small and the SBB´s network is far too curvaceous for real bullet train use, but an opportunity to replace the old, popular TEE or Trans-Europ-Express trains between Zürich and Milano soon opened up. A new, private joint venture company was set up, with both the Swiss state SBB and the Italian FS as partners. The trains themselves were similar Fiat Pendolinos as FS had already in use.
Today the Cisalpino trains look already fairly "used" and would soon need replacement or major uphaul, but the concept has worked well and Cisalpino´s services now cover also other traditional TEE routes, for example from Zürich north to Germany.
---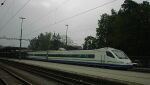 In the nineties the time of the old, fast, international TEE trains was definitely gone, but fast international trains and so called "bullet trains" were "in". The Swiss state SBB started a joint venture company with the Italians to offer high speed and high price exclusive services across the Alps using that time´s most modern trains. The "Cisalpino" started its operations as a separate company in September 1996, first by offering a bullet train connection between Bern and Milano. Later other major destinations were added. Cisalpino operates with Pendolino ETR 470 trains built by Fiat, very similar to the trains used for example by the Italian FS and the Finnish VR. And just like in Italy and in Finland, also here the Pendolinos were in the beginning an endless source of trouble; over 200 "children´s illnesses" had to be cured before the service was reliable.

Here the Pendolino is on its way from Milano via Zürich to Stuttgart in Germany and photographed while stopping at Bülach. The ETR 470 is technically similar to the Italian original Pendolino ETR 460, except that it can operate at dual voltages, both in the Italian DC 3000V and the Swiss/German AC 15 kV networks. Motors are under the floor. The train operates always as a nine coach unit, 236,6 metres long. The whole train weighs 460 tons and can reach a speed of 200 km/h. The active "leaning" technology can make the train lean sideways up to 8 degrees in curves allowing far greater speeds. Cisalpino has seven Pendolinos; this one shown on the picture is no.5. Picture in September 2001 at Bülach station by Ilkka Siissalo
Uploaded 15.6.2002.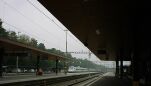 There it goes: the remarkable length of the Pendolino of over 230 metres shows well as the train is leaving Bülach station towards Germany and Stuttgart. Today the Pendolinos are still modern, fast and attractive, but over six years of intensive use have begun to show some wear both on the outside and in the inside. Picture in September 2001 at Bülach station by Ilkka Siissalo
Uploaded 15.6.2002.