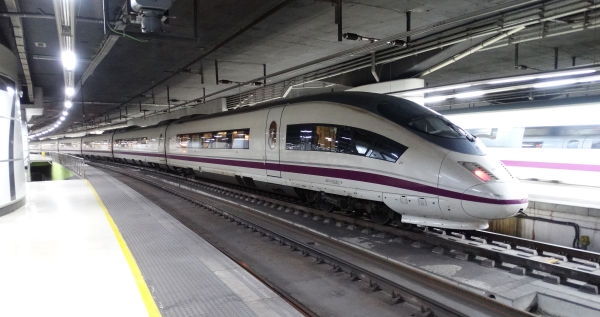 Spanish state railways Renfe's class AVE 103 is made by the German company Siemens and it is a close relative of the German DB's ICE3M trains. They both belong to the Siemens Velaro family of trains. Renfe ordered in 2001 32 of these fast trains for the traffic between Madrid Atocha station and Barcelona. There are currently 26 of these 8 coach trainsets in use. Renfe's Velaros are more powerful than the German ones and their certified top speed is 350 km/h.
Picture from Barcelona Sants station 8.11.2018 by Ilkka Siissalo.
---
FUNET railway pictures archive - Spain
Trains in Spain run on four different track gauges, but the majority of the lines are built with the so called Iberian broad gauge 1668 mm. There are over 11 800 km of 1668 mm tracks in the country. But there are also 3100 km of normal gauge 1435 mm lines in the country, for example the new line connecting Barcelona with France. The main part of the network is electrified with 3000 V DC, but the new high-speed lines are constructed with modern 25 kV AC technology.
---
Picture categories
---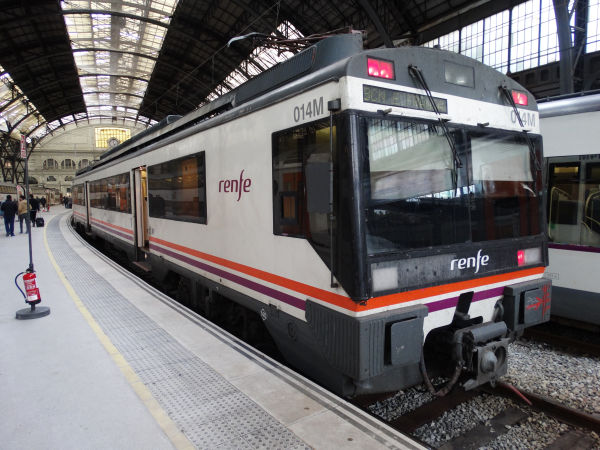 This is a Renfe class 470 electric multiple unit, running for Renfe Media Distancia regional services. They were built by Construcciones y Auxiliar de Ferrocarriles MACOSA and they date back to 1993. They are used in regional express trains, for example on the route Barcelona-Figueras, but they are planned to be scrapped soon.
Picture from Barcelona Franca station 8.11.2018 by Ilkka Siissalo.