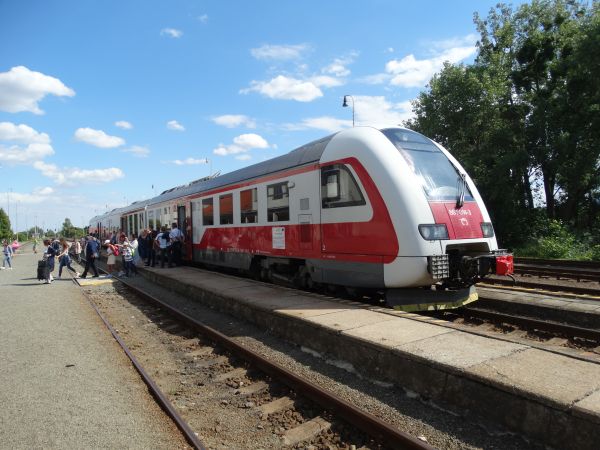 Slovakia used to be the not so rich half of old Czechoslovakia. The trains of Slovakia are either old and from the previous communist times, and as such, they are typically the same that can be found in the Czech Republic as well, or then they are brand new. This is an example of a new one. This is a Slovakian state railways ZSSK class 861 regional diesel multiple unit. These new trains are made by ŽOS Vrútky and they are called "RegioMovers". The first ones were delivered 2011 to 2018. The train in the picture carries large stickers reminding people that these trains have been funded by the European Union.
Picture from the Vranov nad Topl'ou station 2.7.2018 by Ilkka Siissalo.
---
FUNET railway pictures archive - Slovakia
The modern Železnice Slovenskej republiky company ŽSSK was established in 1993 as a successor of the Československé státní drahy, Czechoslovakian state railways, in Slovakia. ntil 1996 it was a state monopoly and only since 2010 some private operators have emerged. Today the state railways as a company has been split into ZSSK for passenger services and ZSSK Cargo for cargo operations. Slovakia has 3658 km of normal gauge railways and only 50 km of narrow gauge tracks.
---
Picture categories