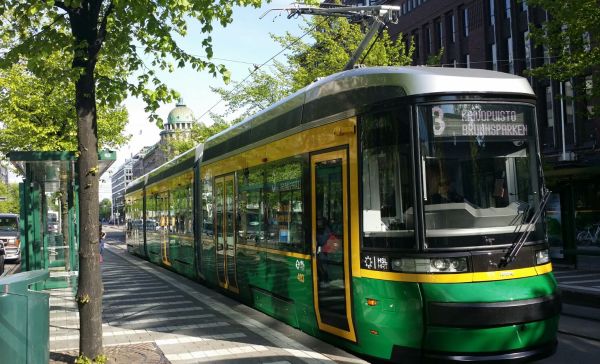 The very first serial Artic tram of Helsinki. After two prototypes, the first serial version trams built by Transtech, now a part of the Czech Skoda group, are now running on the streets of Helsinki. Picture of tram 403 on Mannerheimintie at 19.5.2016 by Sanna Siissalo.
---
FUNET railway pictures archive - Finland
Finland belongs to the EU and should therefore allow free competition on the rails in theory. But in practise, the old state railways monopoly VR (Valtionrautatiet = State railroads), now formed as a company has almost a full monopoly. The capital Helsinki has a metro system with just two lines (but an extention to the neighbouring city Espoo is expected to open in 2017). Almost all railroads, with the exeption of only short museum railway stretches, are of the 1524 mm broad gauge, dating back to the 1800s when Finland was still part of czarist Russia. Now in 2017 there is one more or less serious rival of VR in the cargo branch, as Fenniarail bought refurbished 1524 mm gauge diesel engines from the Czech republic. Almost all passenger traffic is so far still in the hands of VR, although the newest Stadler Flirt commuter trains of Helsinki suburban area now bear the paintings of HSL, the Helsinki metropolitan area traffic agency. Officially these trains are owned by Junakalusto Oy, which is a joint venture company owned by VR and HSL.
Currently there are trams only in Helsinki. In the past the cities of Viipuri (now occupied by Russia) and Turku also had trams. There are several plans for new tramway systems for example in Tampere and Turku at various planning stages.
The Russian broad gauge 1520 mm differs from the Finnish 1524 by only 4 mm and therefore it is possible to use some Russian coaches in Finland. The Finnish VR and the Russian RZD also have a joint venture company Karelian trains, which operates a fast "bullet train" service between Helsinki and St Petersburg under the brand name Allegro. Russian locomotives do not normally run in Finland as they are lacking official acceptance according to EU rules. However it is possible to observe some Russian locos in Finland at border stations such as Imatrankoski and Vainikkala.
---
Picture categories