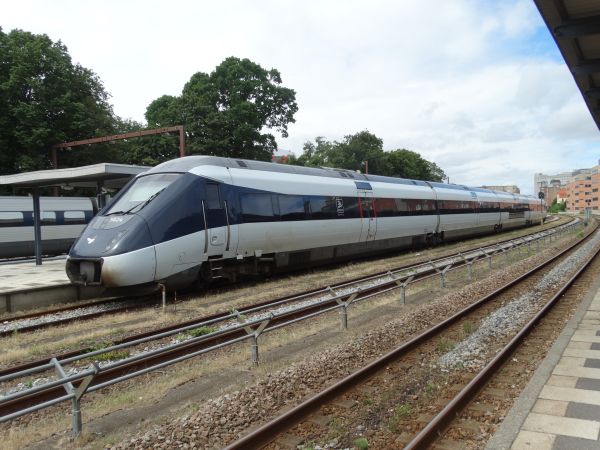 The IC4 is Denmark's newest express train class, built by the Italian AnsaldoBreda. It has been a sad story. The trains emerged years and years late, and although they are beautiful to look at and passengers like them for their comfort, they are of lousy quality. Only roughly half of the fleet can be kept moving at any one point of time and even as they are brand new, they already now suffer from corrosion as well as design failures. Even a Danish minister recently publicly called them rubbish trains. Picture of this IC4 was taken 7.7.2016 by Ilkka Siissalo in Aalborg.
---
FUNET railway pictures archive - Denmark
Denmark has been for decades known as a "diesel country". As neighbours kept quickly installing electric train lines, Denmark stubbornly kept to the old. Stations have since the early 1960s been roaring with the murmur of huge diesel engines, and even the newest trains like the IC4 pictured above, were ordered as diesels. But now the tide is turning. Main line traffic from København (Copenhagen) all the way down south to Germany can now run with AC 25kV currency and Denmark is also investing heavily into a Pan-European train security system called ERTMS (European Railway Traffic Management System). Sometimes it is good to be a slow follower :-) Other lines will follow.
Traditionally one of Denmark's problems has been that much of the country consists of islands and trains had to be carried over the straits via train ferries, which is slow and cumbersome. This is still the case for example on the so called Vogelfluglinie (birds flight line) which connects Denmark to Germany via car and train ferries between Rødby (DK) and Puttgarden (DE), the shortest way. It also helps a lot that there are now fixed connections via huge bridges and tunnels all the way from Sweden's Malmö in the north via København and Odense to the peninsula of Jutland and further down south to Germany. This helps for example transit goods traffic immensely.
Danish state railways DSB does not any longer have a full monopoly in passenger traffic, though it is the clearly dominant player. DSB sold for some years ago its cargo part DSB Gods and that is now a part of DB Cargo Scandinavia, earlier DB Schenker Rail Scandinavia, owned by the national railways of Germany.
---
Picture categories
---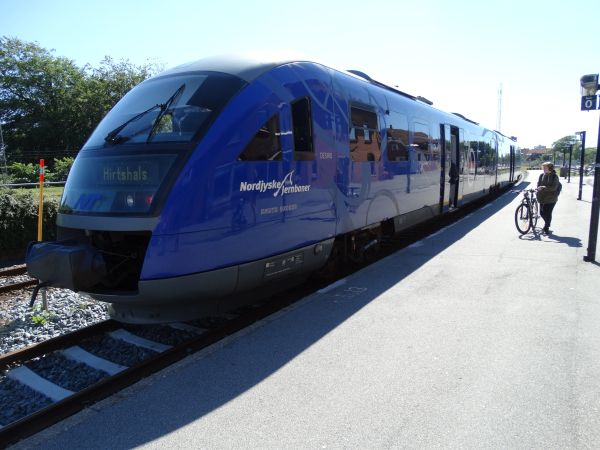 One of the few private railways of Denmark, the Nordjyske Jernbanor operates a small network in the very northern part of the Jutland peninsula. This is a modern Siemens built Desiro diesel railbus, here running between the towns of Hjørring and Hirtshals. Photo in Hjørring 6.7.2016 by Ilkka Siissalo.