Elliptical halos - when to look for them?
From: Marko Riikonen <Marko.Riikonen@ursa.fi>
Date: 17th Mar 1995
---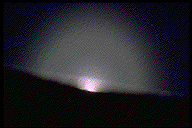 Elliptical halo by Arto Oksanen in Jyväskylä
After going trough all the Finnish elliptical halo observations it seems evident, that elliptical halos are connected to middle level clouds, especially Altocumulus. There are 17 reliable reports, and in almost all of them there is description of Altocumulus showing up in the sky same time with the elliptical halo. Sometimes Stratocumulus is reported and in one case Altostratos.
The elliptical haloes are not seen in the Ac itself, but in white "mess" cloud, that seems to be connected with the Ac. The "mess" might be a virga of Ac or something. It look a little bit like Cs, but the short existence of elliptical haloes (out of 16 observations five were 1 minute or less) indicates clearly the lower level origin of the elliptical halo cloud.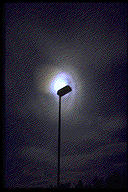 Elliptical halos by Jukka Ruoskanen in Siuntio on 12th Apr 1993
Our best elliptical halo display on 12.4.1993 (with three ellipses simultaneously in the sky) was accompanied by beautiful, well formed Ac lenticularis clouds, which were also photographed by Jukka Ruoskanen. Those kind of clouds are rather rare in flat Southern Finland. Was it just accident, that spectacular elliptical halo display appeared during spectacular Ac lenticularis?
Here is a tip for people living near mountains: Orographic altocumulus lenticularis is often formed near mountains. If some white "mess" spreads around the Ac cloud, try to look for elliptical halos. Sunglasses are necessary to see these very close to sun located halos.
Marko Riikonen
---
Latest update: 30 Dec 1999

These pages are maintained by:
Veikko Mäkelä, Veikko.Makela@ursa.fi
Mika Pirttivaara, Mika.Pirttivaara@ursa.fi