Life

Mammalia

Chiroptera

Vespertilionidae
Antrozous H. Allen, 1862

Antrozous H. Allen, 1862; Proc. Acad. Nat. Sci. Phila. 14: 248, TS: Vespertilio pallidus Le Conte
Bauerus ?Engstrom & Wilson, 1981; , TS: Antrozous dubiaquercus Van Gelder

---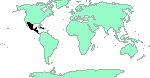 Nayarit (Maria Magdalena I.), Mexico (Veracruz), Honduras. See [About maps]
Antrozous dubiaquercus Van Gelder, 1959; Am. Mus. Novit., 1973: 2, TL: Mexico, Nayarit, Tres Marias Is., Maria Magdalena I.
meyeri
Bauerus dubiaquercus ;
---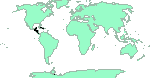 Cuba. See [About maps]
Antrozous koopmani Orr & Silva, 1960; Proc. Biol. Soc. Wash., 73: 84, TL: Cuba, Pinar del Rio, San Juan y Martinez, Hoyo Garcia Cave
---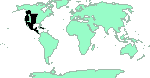 Mexico (Queretaro) - S.Kansas, Nevada - S.British Columbia - California, Baja California. See [About maps]
Vespertilio pallidus Le Conte, 1856; Proc. Acad. Nat. Sci. Philadelphia, 7: 437, TL: Texas, El Paso Co., El Paso
Antrozous bunkeri Hibbard, 1934; Journ. Mamm. 15 (3): 227, TL: 7mi S of Sun City, Barber Co., Kansas
?Antrozous pallidus cantwelli Bailey, 1936; North Amer. Fauna 55: 391, TL: Rogersburg, Asotin Co., Washington
?Antrozous pallidus pacificus Merriam, 1897; Proc. Biol. Soc. Washington, 11: 180, TL: Old Fort, Tejon, Tehachapi Mts., Kern Co., California
---
Antrozous minor Miller, 1902; Proc. Acad. Nat. Sci. Phila., 54: 389, TL: Comondu, Lower California, Mexico
---
5.9.2002 (4)
References:

Warning! The maps are automatically generated from the textual information, and the process does not always produce acceptable result; See about maps for more info.
---
Additional information sources:
---
If you have corrections, comments or information to add into these pages, just send mail to Markku Savela
Keep in mind that the taxonomic information is copied from various sources, and may include many inaccuracies. Expert help is welcome.