Life

Mammalia

Carnivora

Mustelidae
Enhydra Fleming, 1822

Enhydra Fleming, 1822; The Philosophy of Zoology, 2: 187, TS: Mustela lutris Linnaeus
Latax Gloger, 1827; Nova Acta Phys.-Med. Acad. Caesar. Leop.-Carol., 13 (2): 511
Enhydris Merrem, 1820
Pusa Oken

---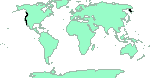 Kurile Islands, Komandorskiye Islands, Aleutians, California (coast). See [About maps]
Sea Otter
Kamchatka - W.Aleutian Is.
Mustela lutris Linnaeus, 1758; Syst. Nat. (Edn 10) 1 : 45, TL: Kamchatka
gracilis
kamtschatica
marina
Enhydra lutris ; Gray, 1843, : 72; True, 1884, Proc. U.S. Nat Mus., 7 (App. Circ. 29): 609
Enhydra lutris lutris ; [LNAM, 767]
coast of (Washington, Oregon, California), Baja California
Latax lutris nereis Merriam, 1904; Proc. Biol. Soc. Washington, 17: 159, TL: San Miguel Island, Santa Barbara Islands, California
orientalis
stelleri
Enhydra lutris nereis ; Grinnell, 1923, Univ. California Publ. Zool., 21 (10): 316; [LNAM, 767]
---
6.6.2012 (1)
References:

Warning! The maps are automatically generated from the textual information, and the process does not always produce acceptable result; See about maps for more info.

[LNAM]

Gerrit S. Miller Jr., Remington Kellog, 1955; List of North American Recent Mammals; United States National Museum, Bulletin 205
---
Some related literature:

Linnaeus, 1758

Systema Naturae per Regna Tria Naturae, Secundum Clases, Ordines, Genera, Species, cum Characteribus, Differentiis, Symonymis, Locis. Tomis I. 10th Edition Syst. Nat. (Edn 10) 1 : 1-338, : 339-824
---
Additional information sources:
---
If you have corrections, comments or information to add into these pages, just send mail to Markku Savela
Keep in mind that the taxonomic information is copied from various sources, and may include many inaccuracies. Expert help is welcome.