Life

Insecta

Lepidoptera

Ditrysia

Noctuoidea

Noctuidae

Hadeninae
Ceramica Guenée, 1852

Ceramica Guenée, 1852; , TS: Ceramica exusta Guenée Ceramica (Hadenini) ; [FE]
Ceramica (Mamestrina) ; [NE4, 18]

---

Ceramica pisi
(Linnaeus, 1758)
EU. See [About maps]
Herneen tarhayökkönen
Broom Moth
Erbseneule
Phalaena pisi Linnaeus, 1758
Phalaena Noctua pisi Linnaeus, 1758; 517, TL: [Europe]
Mamestra pisi var. pallens Staudinger, 1882; 35, TL: Lepsa
Mamestra pisi var. rukavaarae Hoffmann, 1893; Stettin Ent. Ztg 54 (4-6) : 127, TL: Finland, Kuusamo
Polia pisi nyiwonis Matsumura, 1925; 153, pl. 10, f. 21, TL: North Saghalien, Nyiwo
Polia pisi pisella Bryk, 1941; 156, TL: Kamtschatka
Polia pisi pardoi Agenjo, 1945; 172, pl. 4, f. 13-14, TL: Spain, Santander, Reocin
Melanchra pisi, Svenska fjärilar [SVF]
Ceramica pisi, Moths and Butterflies of Europe [MBE]
Ceramica pisi, UK Moths [Ian Kimber]

Melanchra pisi ;
Lacanobia pisi ; [POOLE]
Ceramica pisi ; [NE4, 18]
| | | |
| --- | --- | --- |
| 500x665 (~33Kb) Estonia, Vehendi, 17.6.1997, Photo © Tero Piirainen | 800x651 (~95Kb) larva Russia, Moscow area, 18.8.2005, Photo © D. Smirnov | 712x713 (~107Kb) female Russia, Moscow area, 1.6.2010 (36°25'E, 56°23'N), Photo © D. Smirnov |
| 500x491 (~40Kb) FINLAND: Ka: Virolahti, 671:539, m 12.7.1976, f 22.7.1976, Markku Savela leg. | | |
Flight from June to July.
Larva on Pteridium aquilinum, Larix sibirica, Typha latifolia, Betula sp., B. verrucosa, B. pubescens, Alnus incana, Salix spp., S. caprea, S. aurita, S. cinerea, S. myrsinifolia, S. phylicifolia, Populus tremula, Urtica dioeca, Polygonum lapathifolium, P. viviparum, Rumex spp., aconitum sp., Thlaspi alpestre, Ribes uva-crispa, R. nigrum, Rosa sp., Potentilla anserina, Rubus idaeus, R. chamaemorus, Filipendula ulmaria, Sorbus aucuparia, Pisum sativum, Trifolium pratense, Crataegus oxyacantha, Aegopodium podagraria, Angelica silvestris, Linum usitatissimum, Solanum dulcamara, Galium verum, Viburnum opulus, Aster tripolium, Calendula officinalis, Cirsium arvense, Centaurea jacea, Caragana arborescens [SPRK]
---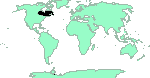 New York, Massachusetts, .... See [About maps]
Mamestra picta Harris, 1841; 329, TL: Massachusetts
Ceramica exusta Guenée, 1852; in Boisduval & Guenée, Hist. nat. Ins., Spec. gén. Lépid. 5 (Noct. 1) : 344, Atlas (Noctuelites): pl. 5, f. 9, TL: North America
Mythimna contraria Walker, 1856; 78, TL: New York
Melanchra picta, Pacific Northwest Moths [PNWM]
Melanchra picta, Moth Photographers Group [MPG]
Melanchra picta, Butterflies and Moths of North America [BAMONA]
Melanchra picta, Noctuid Search (record) [NOCTS]

Melanchra picta ; [NACL, #10293]; [POOLE]
---
6.4.2010 (2)
References:

Warning! The maps are automatically generated from the textual information, and the process does not always produce acceptable result; See about maps for more info.
Opler, Pavulaan, Stanford & Pogue; Butterflies and Moths of North America; Mountain Prairie Information Node
Russia, Moscow; e-mail: D. Smirnov
Fauna Europaea; Fauna Europaea
Moths and Butteflies of Europe; Paolo Mazzei, Diego Reggianti and Ilaria Pimpinelli; http://www.leps.it/
Hodges, 1983; Check List of the Lepidoptera of America North of Mexico
Hacker, Ronkay & Hreblay, 2002; Noctuidae Europaeae 4; Hadeninae I
Noctuid Search; An Interactive Key to Identify the Noctuidae of North America; e-mail: Thomas D. Eichlin; e-mail: Scott A. Kinnee; Dennis E. Mayhew; Ronald E. Somerby; Charles S. Papp
Poole, 1989; Lepidopterorum catalogus (n.s.) 118 - Noctuidae
Seppänen, E. J, 1970; Suomen suurperhostoukkien ravintokasvit, Animalia Fennica 14
Svenska fjärilar; Naturhistoriska riksmuseet; (Sweden)
Tampere, Finland; e-mail: Tero Piirainen
---
Some related literature:

Guenée in Boisduval & Guenée, 1852

Histoire Naturelle des Insectes. Species Général des Lépidoptéres. Tome Cinquiéme. Noctuélites. Tome 1 Hist. nat. Ins., Spec. gén. Lépid. 5 (Noct. 1) : 1-407, Atlas (Noctuelites): pl. 1-24 (1858)

Hoffmann, 1893

Fortsetzung zu Schilde's Lepidopterologischen Mittheilungen aus Nord-Findland Stettin Ent. Ztg 54 (4-6) : 121-145
---
If you have corrections, comments or information to add into these pages, just send mail to Markku Savela
Keep in mind that the taxonomic information is copied from various sources, and may include many inaccuracies. Expert help is welcome.