Life

Insecta

Lepidoptera

Ditrysia

Noctuoidea

Noctuidae

Condicinae
Eucarta Lederer, 1857

Eucarta Lederer, 1857; , TS: Noctua amethystina Hübner
Placodes Boisduval, 1840; (preocc.) Telesilla Herrich-Schäffer, 1856; (preocc.) Platychasma Butler, 1881 Callogonia Hampson, 1908; (preocc.) Dexiadena Filipjev, 1927 Goonallica Nye, 1975 Eucarta (Ipimorphini) ; [FE]
Eucarta (Leuconyctini) ; [NE9, 45]

---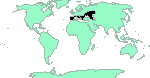 SEU. See [About maps]
austeral (Warren, 1911)
Eucarta amethystina ; [NE9, 45]
---
parietum (Oberthür, 1880)
Eucarta arcta ; [NE9, 45]
---
Eucarta actides ; [NE9, 45]
---
Eucarta curiosa ; [NE9, 45]
---
tegularis (Bryk, 1949)
Eucarta fasciata ; [NE9, 45]
---
Eucarta fuscomaculata ; [NE9, 45 (nom. dub.)]
---
esox (Draudt, 1950)
Eucarta griseata ; [NE9, 45]
---

Eucarta virgo
(Treitschke, 1835)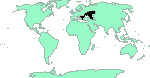 SEEU. See [About maps]
Pietaryrttiyökkönen
virgo (Treitschke, 1835); Schmett. Eur. 10 (2): 130
spencei (Boisduval, 1840); Genera Index Eur. Lepid. : 129
virgo (Motschulsky, 1866)
virgo (Butler, 1881)
resonitens (Sheljuzhko, 1927)
virginalis (Bryk, 1949)
griseofulgens (Kovács, 1968)
euroargenta Rezbanyai-Reser, 1999
Eucarta virgo, Svenska fjärilar [SVF]
Eucarta virgo, Moths and Butterflies of Europe [MBE]

Eucarta virgo ; [NE9, 45]
First record from Finland in Summer 2000.
---
26.2.2013 (8)
References:

Warning! The maps are automatically generated from the textual information, and the process does not always produce acceptable result; See about maps for more info.
Fauna Europaea; Fauna Europaea
Moths and Butteflies of Europe; Paolo Mazzei, Diego Reggianti and Ilaria Pimpinelli; http://www.leps.it/
Fibiger & Hacker, 2007; Noctuidae Europaeae 9: 410pp; Amphipyrinae, Condicinae, Eriopinae, Xyleninae (Part)
Svenska fjärilar; Naturhistoriska riksmuseet; (Sweden)
---
Some related literature:

Boisduval, 1840

Genera et Index Methodicus Europaeorum Lepidopterorum Genera Index Eur. Lepid.: 238pp : 1-238

Treitschke, 1835

Die Schmetterlinge von Europa Schmett. Eur. 10 (2): 1-340
---
If you have corrections, comments or information to add into these pages, just send mail to Markku Savela
Keep in mind that the taxonomic information is copied from various sources, and may include many inaccuracies. Expert help is welcome.