Life

Insecta

Lepidoptera

Ditrysia

Bombycoidea

Bombycidae
Bombyx Linnaeus, 1758

Bombyx Linnaeus, 1758; Systema Naturae, ed. 10, 1: 495, TS: Bombyx mori
Bombyx, NSG Voucher Specimen [Wahlberg]

---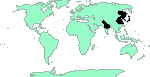 N.India, N.China, Korea, Japan, Taiwan. See [About maps]
Silkkiperhonen
Mulberry Silkworm
Silkworm-moth
Silkworm
Echter Seidenspinner
Zahmer Seidenspinner
Maulbeer-Seidenspinner
Maulbeerspinner
(larva) Seidenraupe
(larva) Seidenwurm
Bombyx du Mūrier
(larva) Ver ą Soie
Bņmbice setifero
Baco da seta
Mariposa del gusano de la seda
(larva) Gusano de seda
Phalaena Bombyx mori Linnaeus, 1758; Systema Naturae, ed. 10, 1: 499, TL: China
Bombyx mori, Moth Photographers Group [MPG]
Bombyx mori, NSG Voucher Specimen [Wahlberg]
Bombyx mori, Lepidoptera Larvae of Australia [Don Herbison-Evans]
Bombyx mori, Moths and Butterflies of Europe [MBE]

Larva on Moraceae, Morus alba, less Scorzonera, less Fagus [BSW]
---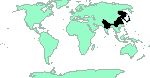 Japan - N.India. See [About maps]
Possible wild form or race of Bombyx mori.
---
6.10.2004 (2)
References:

Warning! The maps are automatically generated from the textual information, and the process does not always produce acceptable result; See about maps for more info.
de Freina & Witt, 1987; Die Bombyces und Sphinges der Westpalearktis; ISBN 3-926285-00-1
and Stella A. Crossley; Lepidoptera Larvae of Australia; e-mail: Don Herbison-Evans; e-mail: Don Herbison-Evans
Moths and Butteflies of Europe; Paolo Mazzei, Diego Reggianti and Ilaria Pimpinelli; http://www.leps.it/
Niklas Wahlberg; The NSG's voucher specimen database; Nymphalidae Systematics Group
---
If you have corrections, comments or information to add into these pages, just send mail to Markku Savela
Keep in mind that the taxonomic information is copied from various sources, and may include many inaccuracies. Expert help is welcome.