Hohenbuehelia
Hytyvinokkaat
Gelémusslingar
---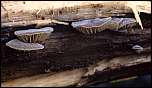 1300x744 (~103Kb) Finland, Lempäälä, Ruuhola, 14.10.1999 (on Acer) © Harri Arkkio
The exact identification of this species is still unknown, but tentatively assumed to belong into this group.
Hohenbuehelia petaloides (Bull.) Schulzer NEU. See [maps]

Suppilohytyvinokas

Spadmussling

Pleurotus petaloides Bull. Quél.
?petalodes

Hohenbuehelia geogenia (DC.) Singer

Tummahytyvinokas

Pleurotus petaloides var. geogenius DC. Pilát
Pleurotus geogenius DC. Gill.

Hohenbuehelia atrocoerulea (Fr.) Singer NEU. See [maps]

Runkohytyvinokas

Blå gelémussling

Geopetalum algidum Fr. Kühner & Romagn. sensu Kühner & Romagn.
Pleurotus algidus Fr. sensu Kühner & Romagn.
Pleurotus atrocoeruleus Fr.

Hohenbuehelia fluxilis (Fr.) Orton

Valkohytyvinokas

Pleurotus fluxilis Fr.
Hohenbuehelia myxotricha Lév. Singer

Hohenbuehelia longipes (Boud.) Moser

Suohytyvinokas

Hohenbuehelia mustialensis (Karst.) Thorn

Aarnihytyvinokas

Hohenbuehelia reniformis (Meyer) Singer

Pikkuhytyvinokas

Njurmussling

Pleurotus reniformis Meyer Sacc.
---
18.12.1998 (7)
References:
[Harri Arkkio]
Finland; For the time being these pictures are only for this site. Other usage not allowed.
[maps]
Warning! The maps are automatically generated from the textual information, and the process does not always produce acceptable result; See about maps for more info.
---
If you have corrections, comments or information to add into these pages, just send mail to Markku Savela
Keep in mind that the taxonomic information is copied from various sources, and may include many inaccuracies. Expert help is welcome.