Dacrymyces
Tipakat
Vedplättar
---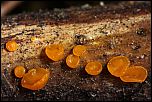 1532x1020 (~200Kb) Finland: Tuulos, Mäntynummi, 6.5.2009, Photo © Harri Arkkio
The exact identification of this species is still unknown, but tentatively assumed to belong into this group.
Dacrymyces chrysocomus (Bull.) Tul.

Kuppitipakka

Skålplätt

Dacrymyces lacrymalis (Pers.) Sommerf.

Ryppytipakka

Rynkplätt

Dacrymyces stillatus Nees NEU. See [maps]

Lahotipakka

Kyynelsieni

Vedplätt

Dacrymyces deliquescens Bull. Duby sensu Neuhoff

950x658 (~139Kb) Finland, Nokia, Römönvuori, 15.10.1999 © Harri Arkkio

Dacrymyces tortus (Willd.) Fr.

Pistetipakka

Punktplätt

Dacrymyces punctiformis Neuhoff
---
27.12.1998 (4)
References:
[Harri Arkkio]
Finland; For the time being these pictures are only for this site. Other usage not allowed.
[maps]
Warning! The maps are automatically generated from the textual information, and the process does not always produce acceptable result; See about maps for more info.
---
If you have corrections, comments or information to add into these pages, just send mail to Markku Savela
Keep in mind that the taxonomic information is copied from various sources, and may include many inaccuracies. Expert help is welcome.