Otidea
Jänönkorvat
Haröron
Otidea (Otidiaceae) [EFU, 39]
---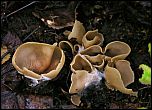 833x600 (~70Kb) Finland: Nokia, Sarpatti, 9.9.2009, Photo © Harri Arkkio
The exact identification of this species is still unknown, but tentatively assumed to belong into this group.
Otidea onotica (Pers.) Fuckel NEU. See [maps]

Aasinkorva

Aasinkorvasieni

Stort haröra

Otidea onotica; [EFU, 41]

| | |
| --- | --- |
| 760x577 (~104Kb) Russia, Moscow area, 14.8.2008, Photo © D. Smirnov | 1213x900 (~177Kb) Finland: Nokia, Haavisto, 9.9.2009, Photo © Harri Arkkio |

Otidea leporina (Fr.) Fuckel

Kangasjäniksenkorva

Jäniksenkorvasieni

Litet haröra

Otidea bufonia (Pers.) Boud.

Konnankorva

Mörkbrunt haröra

Otidea bufonia; [EFU, 40]

Otidea caligata (Nyl.) Sacc.

Keltajänönkorva

Otidea cantharella (A. & S.:Fr.) Sacc.

Flavoscypha cantharella (Fr.:Fr.) Harmaja

Otidea cantharella; [EFU, 40]

Otidea cochleata (L.:Fr.) Fuckel

Otidea cochleata; [EFU, 40]

Otidea concinna (Pers.) Sacc.

Sitruunajänönkorva

Gullöra

Otidea formicarum

Kekojänönkorva

Otidea myosotis

Hiirenkorva

Otidea nannfeldtii Harmaja

Rusakonkorva

Otidea papillata

Nystyjänönkorva

Otidea phlebophora (Berk. & Broome) Sacc.

Kuoppajänönkorva

Flavoscypha phlebophora Berk. & Broome Harmaja

Otidea propinquata

Maljajänönkorva

Otidea tuomikoskii

Kaunojänönkorva
---
17.11.2006 (15)
References:
[D. Smirnov]
Russia, Moscow; e-mail: D. Smirnov
[EFU] Jordan, 1995
Encyclopedia of Fungi of Britain and Europe; ISBN 0 7153 0129 2
[Harri Arkkio]
Finland; For the time being these pictures are only for this site. Other usage not allowed.
[maps]
Warning! The maps are automatically generated from the textual information, and the process does not always produce acceptable result; See about maps for more info.
---
If you have corrections, comments or information to add into these pages, just send mail to Markku Savela
Keep in mind that the taxonomic information is copied from various sources, and may include many inaccuracies. Expert help is welcome.