Life

Aves

Charadriiformes
Laridae

Lokit,Tiirat

Gulls,Terns


Sternidae
Laridae (Charadriiformes) ; [AVTAX]

Anous
Stephens, 1826
Procelsterna
Lafresnaye, 1842
Gygis
Wagler, 1832
Rynchops
Linnaeus, 1758
Creagrus
Bonaparte, 1854

Rissa
Stephens, 1826

Pagophila
Kaup, 1829

Xema
Leach, 1819

Chroicocephalus
Eyton, 1836

Hydrocoloeus
Kaup, 1829

Rhodostethia
MacGillivray, 1842
Leucophaeus
Bruch, 1853

Ichthyaetus
Kaup, 1829

Larus
Linnaeus, 1758

Gelochelidon
Brehm, 1830

Hydroprogne
Kaup, 1829

Thalasseus
Boie, 1822

Sternula
Boie, 1822
Onychoprion
Wagler, 1832

Sterna
Linnaeus, 1758

Chlidonias
Rafinesque, 1822
Phaetusa
Wagler, 1832
Larosterna
Blyth, 1852
---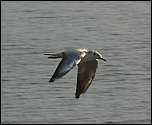 900x738 (~61Kb) Russia, Tatarstan, Ianga-Aul (56°13'N 52°49'E), about 20km S of Agriz, 8.8.2004, Photo © Markku Savela
The exact identification of this species is still unknown, but tentatively assumed to belong into this group.
---
15.6.2011 (102)
References:

[AVTAX]

Zoonomen; Extracted during June 2011, for most recent information, verify using links provided; Zoological Nomenclature Resource; Birds of the World -- current valid scientific avian names
---
If you have corrections, comments or information to add into these pages, just send mail to Markku Savela
Keep in mind that the taxonomic information is copied from various sources, and may include many inaccuracies. Expert help is welcome.