Life

Arachnida
Araneida

Hämähäkit
Currently most of the names have been taken from a Danish check list by [Søren Langemark]. Some Finnish common names are taken from [EHO].
Atypidae
Purse Web Spiders
Antrodiaetidae
Folding-Door Spiders
Dipluridae
Funnel Web Tarantulas

Eresidae
Tylppyhämähäkit

Amaurobiidae
Pimentohämähäkit

Dictynidae
Uloboridae
Oonopidae
Scytodidae
Sylkijähämähäkit
Spitting Spiders
Dysderidae

Segestriidae
Kellarihämähäkit

Pholcidae
Vaaksiaishämähäkit

Gnaphosidae
Kivikkohämähäkit

Clubionidae

Zoridae
Anyphaenidae

Heteropodidae

Thomisidae
Rapuhämähäkit
Crab Spiders

Philodromidae

Salticidae
Hyppyhämähäkit
Jumping Spiders
Oxyopidae

Lycosidae
Susihämähäkit
Wolf Spiders

Pisauridae

Dolomedidae
Kiitohämähäkit

Argyronetidae
Vesihämähäkit

Agelenidae
Suppilohämähäkit

Hahniidae

Mimetidae

Theridiidae
Pallohämähäkit
Nesticidae

Tetragnathidae

Araneidae
Orb Weawers
Ristihämähäkit
Theridiosomatidae

Linyphiidae
Riippuhämähäkit
---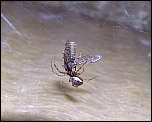 960x768 (~105Kb) Russia, Moscow area, 10.7 - 15.8.2004, Photo © D. Smirnov
The exact identification of this species is still unknown, but tentatively assumed to belong into this group.
---
27.7.2008 (589)
References:

Russia, Moscow; e-mail: D. Smirnov

[EHO]

Chinery; Collins Guide to the Insects of Britain and Western Europe; Finnish edition: Larry Huldén, Lauri Kaila, Hans Silfverberg; Euroopan Hyönteisopas; ISBN 951-1-12880-9
---
If you have corrections, comments or information to add into these pages, just send mail to Markku Savela
Keep in mind that the taxonomic information is copied from various sources, and may include many inaccuracies. Expert help is welcome.